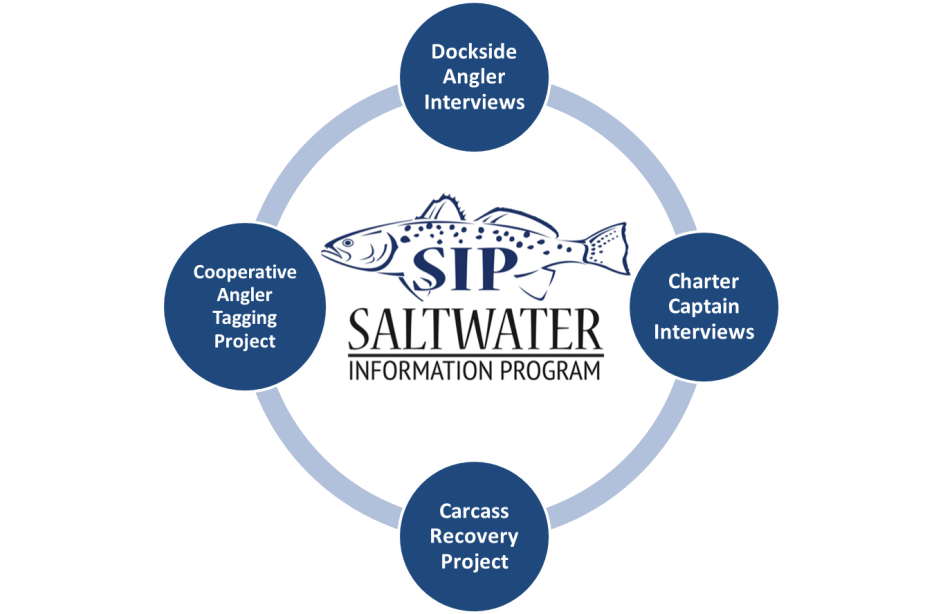 Saltwater Information Program
Marine recreational finfish data in coastal Georgia are collected through the Saltwater Information Program (SIP) by staff from the Georgia Department of Natural Resources Coastal Resources Division.  We rely on anglers and charter captains to provide information.  Anglers and charter captains are surveyed dockside, as well as by telephone and mail, to determine their catch, harvest and effort (number of trips).  These surveys are conducted in cooperation with the National Oceanic and Atmospheric Administration's (NOAA) Fisheries and are part of its Marine Recreational Information Program (MRIP).  Click here to learn more about CRD's recreational angler surveys.  This information is combined with biological data collected from donated fish carcasses and tagged fish to manage Georgia's recreational fisheries.  Click here for more information on the Marine Sportfish Carcass Recovery Project, or click here for the Cooperative Angler Tagging Project.
Each year, a brief SIP annual report is created.  This report describes the four data collection projects within the program, and provides summary data from each project.  To view the most recent year's annual report, click here for the most recent SIP annual report.
Click here to access archived SIP annual reports.
Saltwater Information Program Permit
Anyone who holds a Georgia fishing license, including lifetime and senior license holders, who wants to fish in saltwater needs a free annual SIP permit.  The SIP permit is part of a comprehensive effort by the Georgia Department of Natural Resources to collect timely and accurate data from saltwater anglers for use in resource management.  Since Georgia's fishing license covers both freshwater and saltwater fishing, the SIP permit helps identify individuals who saltwater fish in Georgia so they can be included in surveys.  The SIP permit helps these surveys be cost-effective, and the results be as accurate and trustworthy as possible since they are so important to the management process.  Click here for more information on the SIP Permit.