Brunswick, Ga.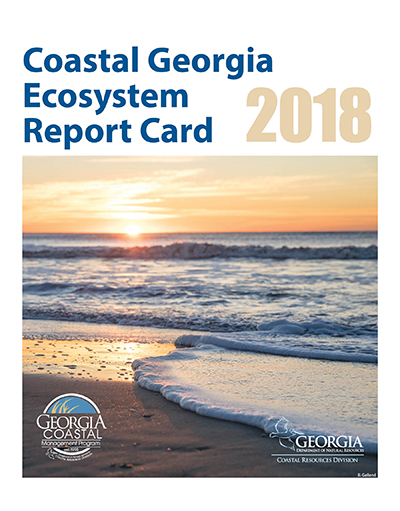 An annual survey released today by the Coastal Resources Division (CRD) of the Georgia Department of Natural Resources shows the state's coastal environment improved its ecological health in 2018.
The Coastal Georgia Ecosystem Report Card scored the state's coastal environment at an "A-", an improvement from last year's score of "B+". This is the highest score the report has garnered since its creation in 2014. A suite of indicators represented in the report card cover key marine fisheries, threatened and endangered birds, marine wildlife and water quality.
"This year's score highlights Georgia's incredible coast and the success of long-term conservation efforts by not just the state, but nongovernmental partners and individuals," said Doug Haymans, director of CRD. "It shows that balancing development with conservation can be achieved and our natural resources can be protected for current and future generations."
The boost in this year's score came primarily from improved indicators related to American oystercatchers, which had their best year on record. Flooding associated with Hurricane Irma in 2017 caused the displacement of many of the American oystercatchers' natural predators, such as raccoons. With these predator populations reduced by as much as 40 percent, American oystercatchers had improved nesting sites.
Ecological report cards are used worldwide and are considered a public-friendly way to provide a detailed assessment of ecosystem health and condition. Georgia's report card score is above average compared to other areas in its class.
"Achieving our first 'A-' rating is an exciting milestone," said Jill Andrews, CRD's Coastal Management section chief. "The individual scores for some indices have declined, while the scores for others have improved. However, the overall health of the ecosystem remains robust. This speaks to our success balancing development and human use with natural resources conservation and protection along Georgia's coast."
Prior to 2018, coastal Georgia scored a "B+" on each of its report cards, which are based on a 20-point scale (100-80=A, 79-60=B, etc.). This scale is accepted for ecosystem health report cards worldwide and provides a clearer picture of overall health. The scoring criteria were developed in 2014 by the Integration & Application Network, the University of Maryland for Environmental Science. The report card project is funded by the office for Coastal Management of the National Oceanographic and Atmospheric Administration. The statements, conclusions and findings do not necessarily represent the views of NOAA.
Anyone with questions about the 2018 Coastal Georgia Ecosystem Report Card may contact Tyler Jones, CRD's communications specialist, at tyler.jones@dnr.ga.gov or 912-262-3140.