Georgia Sound News & Notes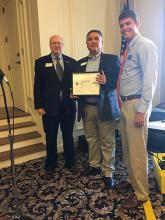 At the DNR Board meeting held on St. Simons this past Friday, Dominic was awarded the Patriot Award, which is given by the Department of Defense through the Employer Support of the Guard and Reserve Program.
---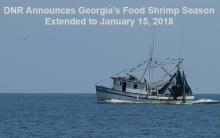 Commissioner Mark Williams has announced that Georgia's food shrimp harvest season will be extended until 6:15 p.m. on Monday, January 15, 2018. Commercial food shrimp trawlers may continue to operate in waters eastward of the sound-beach boundary currently open to power-drawn trawls. Commercial and recreational cast netters, as well as persons using a beach seine, can harvest food shrimp from waters open to the use of these gears.
---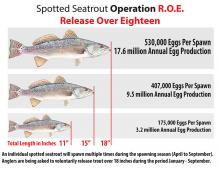 Since late December water temperatures in Georgia estuaries have been below average and in early January inland water temperatures dropped below 44 degrees – a critical level for some marine organisms.  The Georgia Department of Natural Resources (DNR) and many anglers are concerned about the status of species that support the state's valuable recreational saltwater fishing activities including spotted seatrout. 
---