Licenses 
Commercial fishing licenses may be purchased in-person or by mail from DNR offices located at One Conservation Way, Brunswick, GA  31520 (912) 264-7237  or  2065 Hwy. 278 S.E., Social Circle, GA 30025  (770) 918-6401    For information regarding federal commercial fishing permits please contact NOAA Fisheries or call (888) 872-8862.
A completed commercial license application, application for public benefit, and valid ID must be presented to purchase a commercial fishing license.  Application packets may be downloaded via the links below. 
Click here to download the commercial license application packet
Click here to download the saltwater guide license application packet 
Commercial License Fee Quick Reference
| License Type | Resident | Non-Resident |
| --- | --- | --- |
| Commercial Fishing License | $20 | $200 |
| Crabbing | $20 | $200 |
| Crab Pots (per pot) | $2.50 | $2.50 |
| Cast Net Shrimp | $250 | $2500 |
| Trawl Vessel Crew | $200 | $600 |
| Species Endorsements  Effective 4/1/2018) | $5 | $10 |
| Bait Dealer | $40 | $250 |
| Soft-Shell Crab Dealer | $40 | n/a |
| Seafood Dealer | $40 | n/a |
| Trawl Vessel | $85 + $3/ft over 18ft | +$150 |
| Non-Trawl Vessel | $5 | + $50 |
| Pier License | $400 | n/a |
| Saltwater Fishing Guide | $25 | $50 |
| Customer License up to 6 | $150 | $400 |
| Customer License 7+ | $400 | $400 |
Licenses are valid from April 1 to March 31 of the following year.  There is an additional $5 transaction fee per license. 
Commercial Fishing Regulations
Fishermen who take finfish or other seafood for commercial sale must possess a valid commercial fishing license and if a boat is used, a commercial boat license.
The license must be on your person while fishing (O.C.G.A. 27-4-110). 
Commercial fishermen must abide by season, creel and size limits when harvesting any of the finfish for which the Georgia General Assembly or the Board of Natural Resources (Board) has created regulations.
However, individuals fishing with a valid federal commercial fishing permit in federal waters may exceed the creel limits provided those waters are open for commercial fishing with specified gear, minimum size limits are observed, the quota has not been met, and the Board has not prohibited sale of the species.
Finfish for which there are minimum sizes and/or creel and possession limits must be landed head and fins intact. Transfer at sea is prohibited. (O.C.G.A. 127-4-130.1)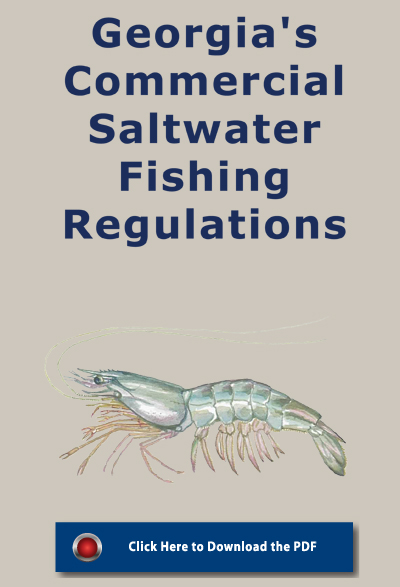 Georgia Commercial Fishing Regulations Handbook (updated July 2017)
Regulatory information on federally managed species can be found at the South Atlantic Fishery Management Council (SAMFC) website. 
Highly Migratory Species (billfish, sharks, tuna, swordfish) regulatory information is available from the National Marine Fisheries Service (NMFS).   
---
Landings Data
Commercial Seafood Landings data are collected via trip tickets completed by seafood harvesters and dealers.  Summaries of Georgia's landings are available as Adobe Acrobat (pdf) files. 
Georgia landings data are also from Julie.Califf@dnr.ga.gov, the Atlantic Coastal Cooperative Statistics Program (ACCSP) and the National Marine Fisheries Service (NMFS).
---
Data Collection and Surveys
Division staff conduct a variety of regularly scheduled surveys to gather biological, distribution, habitat, catch and effort data on a number of recreationally important species.  Examples include the carcass recovery project, the cooperative angler tagging project, recreational angler surveys, red drum and shark longlining, seafood harvest reporting, and trawl surveys. This information is used by the Department and interstate organizations to make resource management decisions at both the state and regional level. Click this link to learn more about Data Collection and Surveys.
---
Shellfish Harvest
The expansive marshes and nutrient rich waters of coastal Georgia offer the entrepreneur a lucrative career in the commercial cultivation and harvest of shellfish. Currently, hard clams (Mercenaria mercenaria) and the Eastern oyster (Crassostrea virginica) are the only species cultivated and harvested in nineteen (19) commercial harvest areas.
Click here for information on Commercial Shellfish Harvesting