Information Relating to Post-Hurricane Irma Activities
Marsh and Shore Permitting Information
**** Update as of 10/16/2017: Call center for Hurricane Irma emergency authorizations and moratorium will tentatively close on Novemebr 15th, 2017.****
The Georgia Department of Natural Resources Coastal Resources Division (CRD), under authority granted pursuant to the Coastal Marshlands Protection Act (CMPA) and the Shore Protection Act (SPA), finds that an emergency exists within all the coastal counties due to Hurricane Irma.
Initial assessment of Hurricane Irma damage indicates that storm surge may have caused greater impact than last year's Hurricane Matthew. "Storm surge, flooding, and high winds have caused damage to many structures located in Georgia's tidal waterways, over marshlands and along barrier island beaches," stated Spud Woodward, CRD director. "Our staff will be working with public, commercial, and government entities to facilitate a quick recovery from Hurricane Irma but we need information about the extent of the damage. We want to focus our efforts on recovery; therefore, action on non-essential projects currently in the queue will be delayed."
Click here for more information
Beach Advisory Information
Post-Irma Beach Water Testing Update 9/26/2017
Beach water testing has continued following a brief hiatus during Hurricane Irma. The following areas were tested recently and have shown results within normal limits. Therefore, advisories have been lifted for:
•    North Beach at Dexter Lane (from the old North picnic area to Brice Lane) on Jekyll Island
•    Skidaway Narrows (Butterbean Beach) in Chatham County
•    Sea Island North and Sea Island South

The following areas have not yet been tested. Therefore, the Coastal Health District recommends you do not swim or wade in the water in these areas:
•    Contentment Bluff Sandbar and Dallas Bluff Sandbar in McIntosh County
•    Reimolds Pasture and Blythe Island Sandbar in Glynn County
Fish and other seafood caught from those areas should be thoroughly washed with fresh water and thoroughly cooked before eating as should fish or seafood caught from any waters.  The areas will be retested and results will be shared once that happens. 
Testing is performed for elevated levels of enterococcus, bacteria which is found in warm blooded animals including humans but also birds, raccoons, deer, dolphins and other wildlife. 
For more information click here. 
Boating and Fishing Access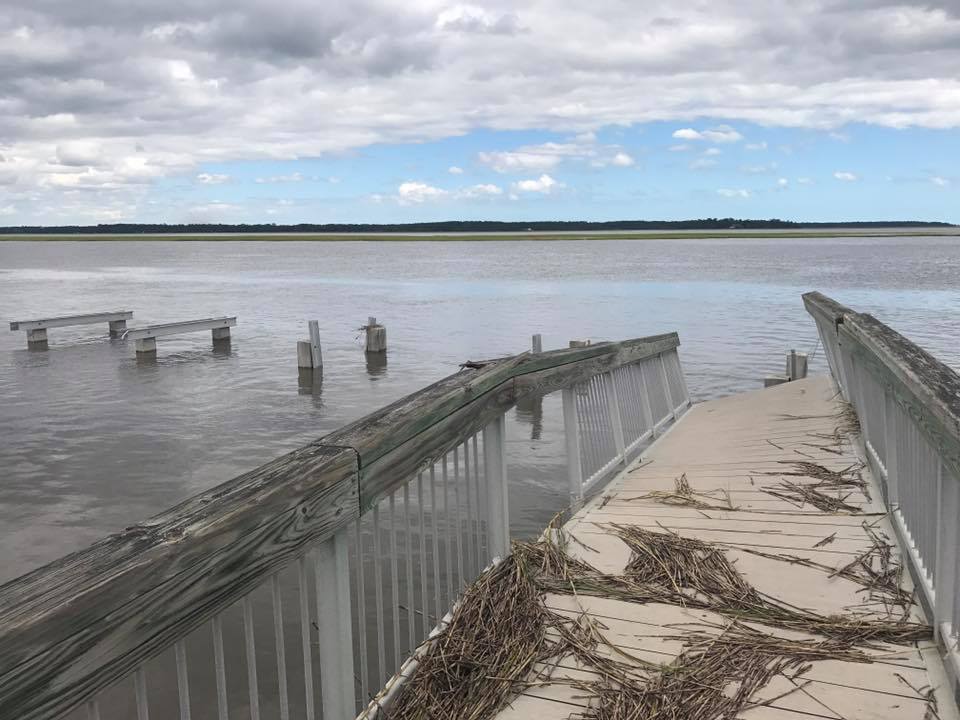 Many public fishing structures and boat ramps have been damaged. Coastal Resources Division is currently assessing the status of these public access sites. Once the extent of the damage is know these facilities will be prioritized for repair.  Please stay clear of damaged structures until assessments can be made.
If you have questions or concerns click here to send us an email or call 912-264-7218