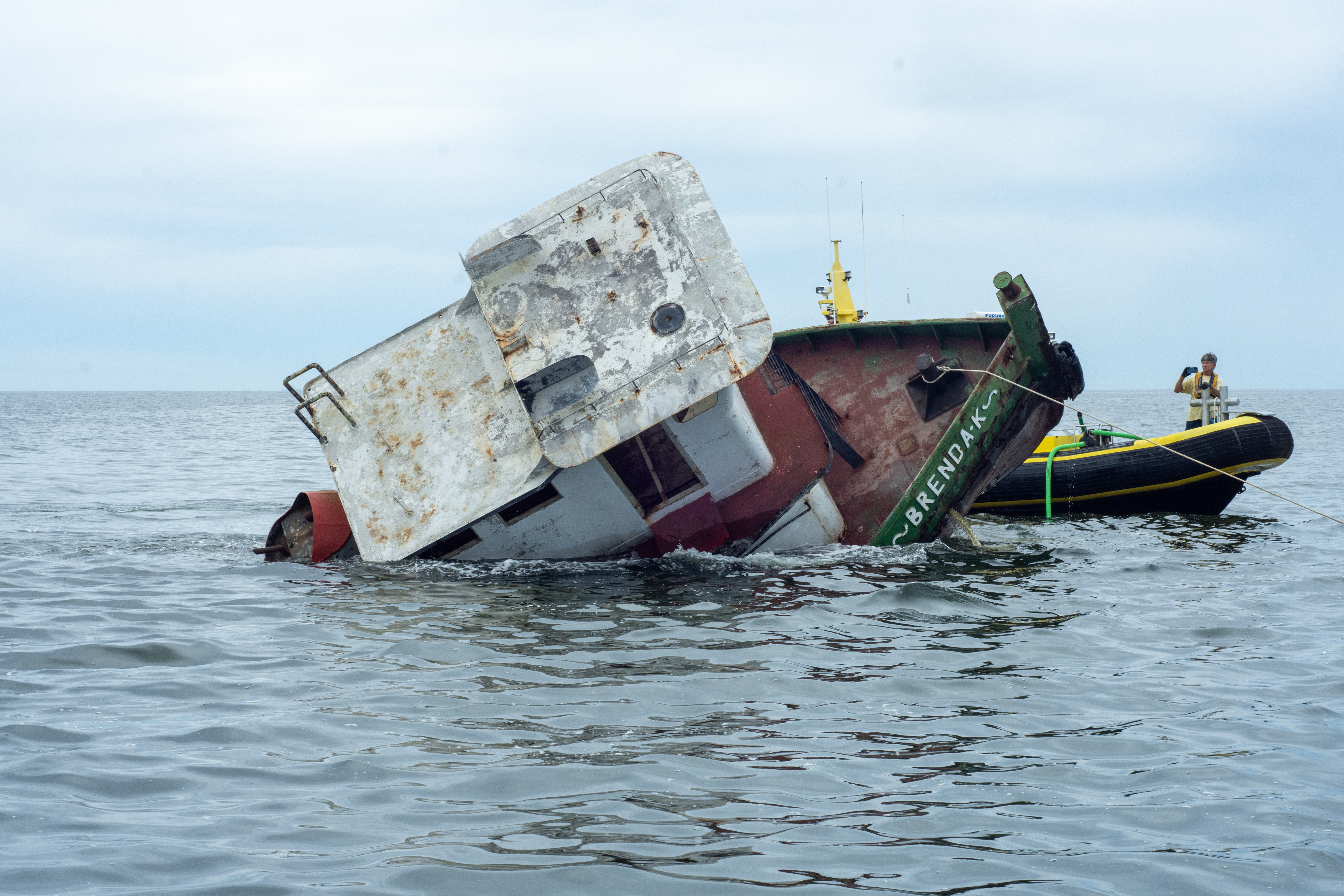 Brunswick, Ga.
The Georgia Department of Natural Resources Coastal Resources Division (CRD) sank a retired tugboat offshore today for use as an artificial reef. The 41-foot tugboat Brenda K. was sunk at Artificial Reef KBY, 8 nautical miles east of Cumberland Island in about 50 feet of water (GPS: 30.805283, -81.27555 or N30°48.317" W081°16.533)

The Brenda K. was donated to CRD by Amelia Island Marina in Fernandina Beach, Fla., after the vessel was abandoned there some years ago, said Paul Medders, CRD's Habitat Enhancement and Restoration Unit lead.

"This latest reef deployment was a great inter-state partnership between our neighbors to the south and Georgia DNR," Medders said. "By donating this retired tug boat, Amelia Island Marina is keeping it out a landfill and helping it become substrate for reef life like encrusting organisms, corals, and fish. We're happy to take it off their hands and put it to good use for years to come."

Artificial reefs are man-made structures that are placed on the ocean floor to provide habitat for marine life. The Brenda K, like all ships and mechanical equipment used as reef material, was meticulously cleaned and inspected by the U.S. Coast Guard before being towed for sinking. CRD has deployed a variety of materials to artificial reefs off Georgia's coast, including ships, barges, and concrete structures. Artificial reefs attract all manner of marine life and fish, including groupers, snappers, and sea bass. This new reef addition will provide additional habitat for fish and other marine life, and will also create new recreational opportunities for anglers and divers.

"The addition of this new artificial reef is a great example of how we are working to protect and enhance Georgia's marine resources," Medders added. "Georgia's gently sloping offshore underwater environment is generally sandy and doesn't provide a lot of great habitat for fish. By creating artificial reefs and adding new materials periodically, CRD is ensuring there will be habitat for fish to spawn and thrive for generations to come."

CRD is committed to protecting and enhancing Georgia's marine resources. The sinking of this new artificial reef is just one example of how CRD is working to achieve this goal. To learn more about CRD's Habitat Enhancement and Restoration Unit, visit CoastalGaDNR.org/HERU. Georgia motorists can also support artificial reef creation by purchasing a "Support Marine Habitat" and their county tag offices. Visit DriveGeorgiaWild.com for more information.
---
Tyler Jones
Public Information Officer
Coastal Resources Division
Georgia Department of Natural Resources
tyler.jones@dnr.ga.gov
912-262-3140
Addition Media:
Additional high-resolution photos of the deployment can be downloaded at https://coastalgadnr.smugmug.com/search#q=Brenda+K. Cutlines/captions are embedded in the metadata or available by clicking the "info" icon on the Smugmug website. 
Additional 1080p broadcast quality video of the sinking is available in 1x speed and 2x speed at https://coastalgadnr.smugmug.com/search#q=Brenda+K&c=videos . More video is also available upon request.
An a-roll interview video with subject-matter expert Paul Medders on site at the reef during the deployment is available upon request. Contact tyler.jones@dnr.ga.gov.