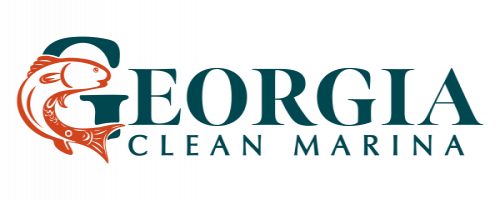 About the Georgia Clean Marina Program
A main attraction of coastal Georgia for both residents and visitors is the ability to get out onto the water, experience marshlands and creeks, and see marine life. This is commonly done by boat, and coastal Georgia has ample marinas at which to dock boats. These marinas are right on marshes and lead directly into waterways, so it is extremely important that they are utilizing environmentally clean practices.
The Georgia Clean Marina Program is a voluntary certification program allowing coastal Georgia marinas the opportunity to demonstrate their environmental stewardship through implementation of Clean Marina Best Management Practices (BMPs). Certified marinas will be eligible to fly the Georgia Clean Marina flag and use the logo in their advertising and promotional materials, signaling to potential clients their commitment to protecting coastal waterways.  This Program is a partnership between the Georgia Marine Business Association (GAMBA), UGA Marine Extension and Georgia Sea Grant, and Georgia DNR/Coastal Resources Division.
The first group of marinas are working towards certification in the fall 0f 2023.  The next cohort of marinas will be invited to take the Clean Marina Pledge in the fall of 2023 and will complete their certification by the summer of 2024.  Please see below for instructions on how to apply.  Applications are being accepted through October 20th, 2023.
Any coastal Georgia marina can apply to be a Clean Marina, and partners will work to accept as many annual applications as possible. All interested marinas are encouraged to review the information below before applying and to contact Kelly Hill (Kelly.hill@dnr.ga.gov) if you have questions about the program.
---
Steps to Certification
Introductory information session.

Apply to be considered for certification.

There will be an open application period once a year with a form to fill out and submit to program partners. This is posted below, and partners will also send out an email with an inquiry form.

A Clean Marina Committee comprised of representatives from each of the three partners will review applications and invite an annual cohort of marinas to continue with the following steps. The number of accepted applications will depend on our capacity for that year.

Pledge

Selected marinas will receive and sign a pledge committing to working toward full certification and implementation of Clean Marina Best Management Practices (BMPs).

Self-assessment

Pledged marinas must complete a draft self-assessment and submit to partners by February 1st, 2024.  Program partners will review and provide feedback to marinas to address any deficiencies.
Marinas will make any necessary changes and submit a final Clean Marina Certification Assessment Form by April 1st, 2024. 

Clean Marina Committee members will conduct a site visit to verify that the checklist items have been met throughout April and May 2024. 
Certification and award recognition.

Once certified, the marina will be presented with a Georgia Clean Marina flag and certificate at a ceremony at the marina.

An annual self-evaluation (checklist) will be completed by each certified marina and sent to the Clean Marina Committee to confirm that the marina is still meeting checklist requirements.
There will be a recertification site visit from the Committee every 3 years to review the checklist in more detail.

If marina ownership or management changes, that marina must inform the committee. The committee will then assign an introductory Clean Marina Program training to the new staff.
---
How to Apply 
Please download and fill out the Clean Marina Application Form that is linked below.  You can fill out electronically and email to courtney.mcgill@uga.edu or print and mail to our office at:
GADNR Coastal Resources Division
Attn Kelly Hill
One Conservation Way
Brunswick, GA 31520
2023 Clean Marina Application Form
Applications are due by October 20th, 2023