Celebrate Earth Day with the Georgia Dept. of Natural Resources at CoastFest on Saturday, April 22, 2023, at Mary Ross Waterfront Park in Brunswick!
---
About CoastFest
CoastFest, in its 28th year, is the largest outreach event hosted by the Coastal Resources Division of the Georgia Department of Natural Resources. This free, family-friendly event features educational programs, touch tanks, wildlife viewing opportunities, and exhibitors from partner agencies and nonprofit organizations. 
There's plenty to see and do for people of all ages at CoastFest. Whether you're interested in fishing, sea turtles, birds of prey, or Coastal Georgia history, we have something for you! Bring your family, curiosity, and sense of adventure when you "Catch the Excitement" at CoastFest on Earth Day from 10 a.m. to 4 p.m. Saturday, April 22, 2023, at Mary Ross Waterfront Park in Brunswick, 100 F St., Brunswick, GA 31520.
CoastFest is a free-admission event and will happen rain or shine. We can't wait to see you there!
---
Park Map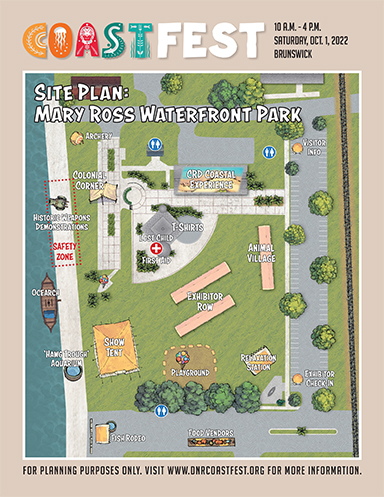 ​
Ready to plan your day at CoastFest? Click here for a map of Mary Ross Waterfront Park to see exhibit placement and the CoastFest site plan. 
The park map shows the locations of exhibitor tents, activities, cannon firings, restrooms, food vendors, and more. Large display versions of the map will be available at CoastFest. To prevent litter, we will not be providing small, handheld paper maps. If you think you'll need a map during the event, we recommend you print one and bring it with you. 
---
Public Parking
Free parking for the public will be available in the grass field in front of Brunswick Landing Marina. Cars can enter on I Street off U.S. Highway 341 across from the Glynn County Veterans Memorial Park. From I-95 Exit 36, head south on U.S. Highway 341. The I Street parking entrance will be on your right. Look for signage and DNR banners marking the entrance. 
---

CoastFest T-Shirts
The return of in-person CoastFest also means our T-shirts are back! This year's T-shirt features the 2020 Art Contest winner Shelby Williams of Glynn Academy with art featuring a red drum, the state saltwater fish of Georgia! Be sure to pick up one of these beautiful T-shirts at CoastFest.
We will have Youth sizes small to large for $8 and adult sizes small to 3X large for $14. We will accept major credit/debit cards and cash. 
 Click the photo for a larger version or click here. 
---
Educational Programs
Dumpster Doug
New to CoastFest this year, Dumpster Doug travels the earth searching for the sources of air, land and water pollution and then shows audiences that small changes make a huge difference when it comes to protecting the earth's natural resources.
Audiences learn about the 4 R's: Reduce, Reuse, Recycle and Read so they too can become Eco-Superstars in the funniest and most magical environmental show CoastFest has ever seen!
Watch a dirty soda can become brand new and filled with soda as it is magically recycled in just 30 seconds. Witness trash being turned into useful products instantly as it enters a recycling bin, and see a scrap of paper turned into something valuable instead of being tossed aside.
Tons of audience participation keeps viewers on the edge of their seats while everyone can laugh along with all the great lessons. It's the perfect assembly show for Earth Day celebrations or anytime of the year. 
Visit Dumpster Doug's website by clicking here.
Georgia Southern University Center for Wildlife Education
Be wowed by birds of prey from Georgia Southern University's Center for Wildlife Education! 
Raptors, also known as birds of prey, are a diverse and fascinating group of birds that have all adapted to a life of eating meat. Raptors include Eagles, Hawks, Owls, Falcons and Vultures and within each group there can be found a great deal of variety in form and behavior.
Though incredibly diverse, all of these raptors will possess three important characteristics; keen eyesight for spotting prey, powerful curved talons for capturing and gripping prey and a curved beak for tearing food into smaller pieces. Raptors play an important role in the environment as key predators and scavengers and are some of the most important natural vermin control mechanisms. Experienced falconers show off several species of birds of prey, and explain the various adaptations that make this group of birds so intriguing.
Program lasts approximately one hour.
Program Schedule
10:30 a.m. - Dumpster Doug
11:30 a.m. - Georgia Southern University Birds of Prey
1 p.m. - Dumpster Doug
2 p.m.: GSU Birds of Prey
3 p.m. Dumpster Doug
Cannon firings every hour on the hour
Musket firings on the half hour every hour
---

Touch Tanks and Coastal Experience
Visit the Coastal Resources Division pavilion for the Coastal Experience. Travel from the uplands, through the marsh, and out to sea as you see and learn about what CRD does to conserve the coast for the benefit of present and future generations. 
Take a journey through Coastal Georgia, starting in the upland where you'll learn about maritime forests and the transitionary ecosystem. Then, venture down into the marsh to experience the mucky mud, keystone plant species, and organisms that call Georgia's 368,000 acres of marsh home. Finally, cross over onto a barrier island and see how the forces of nature shape the beaches, dunes, and coastline of the Peach State. 
It all wraps up with a dip into our touch tanks, where you'll be able to see and touch wild Georgia sea life, including stingrays, horseshoe crabs, finfish, and other marine life! 
This exhibit is a family favorite that you won't want to miss!
---
Animal Village and other attractions
CoastFest features a wide variety of other attractions, including animals, activities like the Fish Rodeo, reef ball painting, and more. 
The goal of all our attractions is to educate the public about the Coastal Georgia environment so they can be better stewards of our natural resources and socio-cultural heritage. At CoastFest, we want to make learning come alive and be an enjoyable experience for you and your family to remember for years to come.
At our CoastFest Animal Village this year, we're featuring exhibitions from Georgia Southern University's Center for Wildlife Education, Georgia DNR's Charlie Elliott Wildlife Center, Chehaw Park and Zoo, FlintRiverquarium, and Okefenokee Swamp Park and Adventures.
At CoastFest's Animal Village, you'll be able to see:
Corn snake

Rat snake

Indigo snake

Hawk

Bard Owl

Screech owl

Gopher tortoise

Diamondback terrapin

Gopher frog

Amphibians

Insects

and more!
---
Exhibitors
CoastFest 2022 will feature exhibitors from organizations representing government, research agencies, nonprofits, and more! Take a stroll through Exhibitor Row to learn about everything from Georgia history, living shorelines, sea turtles, and many other topics. 
If your organization would like to be a part of CoastFest on April 22, 2023, please reach out to CRD's CoastFest coordinator, Tyler Jones, at tyler.jones@dnr.ga.gov or 912-262-3140.
As a reminder, sales of items and memberships are prohibited at CoastFest. Exhibitors must also agree to be present for the duration of the event. CRD cannot guarantee that electricity will be available for every exhibitor. 
If you are an exhibitor and need information about what to expect the day of CoastFest, please contact Tyler Jones at tyler.jones@dnr.ga.gov or 912-264-7218. 
Current exhibitors include:
Altamaha Riverkeeper

America's Boating Club Golden Isles

Artesian Alliance (Chehaw Park & Zoo, Flint RiverQuarium, and Thronateeska Heritage Center)

College of Coastal Georgia Biological Sciences

College of Coastal Georgia Environmental Sciences

DNR's Charlie Elliott Wildlife Center

DNR's Sapelo National Estuarine Research Reserve 

DNR's Wildlife Resources Division - Game Management Region VI

DNR's Wildlife Resources Division - Wildlife Conservation Section Brunswick

Flotilla St Simons Island (0701010) United States Coast Guard Auxiliary

Fort Frederica National Monument / Cumberland Island National Seashore

Georgia Forestry Commission

Georgia Chapter American Fisheries Society

Georgia Ports Authority

Georgia Sea Turtle Center

Georgia Southern University, Institute for Water and Health

Glynn County Community Development and Emergency Management Agency

Glynn County Farm Bureau Beekeepers' Committee

Hazadapt

Keep Golden Isles Beautiful

LCP Chemicals Superfund Site Natural Resource Damage Assessment

Marshes of Glynn Girl Scouts

NOAA Gray's Reef National Marine Sanctuary

OCEARCH

Okefenokee National Wildlife Refuge

Okefenokee Swamp Park and Adventures

Southeast Georgia Health System

St. Simons Land Trust

U.S. Department of Agriculture
---