Riverine and tidal creek erosion is a natural process but can, in certain instances, be exacerbated by anthropogenic influences.  Historically, property owners have constructed rock revetments or bulkheads to combat tidal creek erosion. Beginning in 2006, a new technique referred to as Living Shorelines began to be developed in coastal Georgia.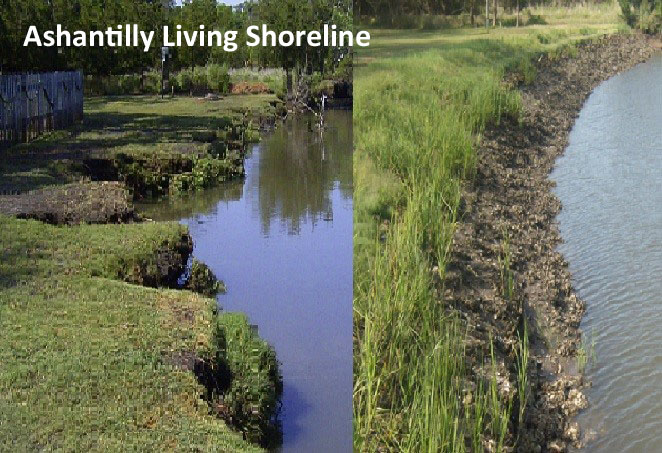 What are Living Shorelines?
Novel engineering approaches providing alternatives to conventional armored shorelines that are constructed to protect uplands lying adjacent to estuarine waters from erosion. Living Shorelines use bioengineering in combination with native vegetation plantings to stabilize or enhance wetland habitats.
The primary goal of a Living Shoreline is to avoid engineering designs that hinder or disrupt the natural connections between aquatic environments and adjacent uplands.  Secondary goals include the preservation of tidal exchange, sediment conservation, natural plant communities and necessary shoreline dynamics associated with sea level rise.
Advantages of Living Shoreline Technique
Creates a vegetated buffer that absorbs and disperses wave energy thereby reducing erosion
Allows for animal access between upland and aquatic habitats
Mimics natural shoreline dynamics
Provides alternatives to the construction of rock revetments and bulkheads for erosion control
Can be equal to or less expensive than structures such as bulkheads and rock revetments
Preserves, creates, or maintains habitat for aquatic plants and animals
Restores critical feeding and nursery habitat for fish
Can trap and retain land runoff containing nutrients and pollutants
Living Shoreline Reports and Resources
If you have any questions regarding Living Shorelines, please contact Meghan Angelina at meghan.angelina@dnr.ga.gov or at (912) 264-7218.