Riverine and tidal creek erosion is a natural process but can, in certain instances, be exacerbated by anthropogenic influences. Historically, property owners have constructed rock revetments or bulkheads to combat tidal creek erosion, but we have learned of their potential disadvantages. In low- to medium-energy environments, CRD recommends living shorelines as an effective, long lasting, and sustainable way to reduce erosion.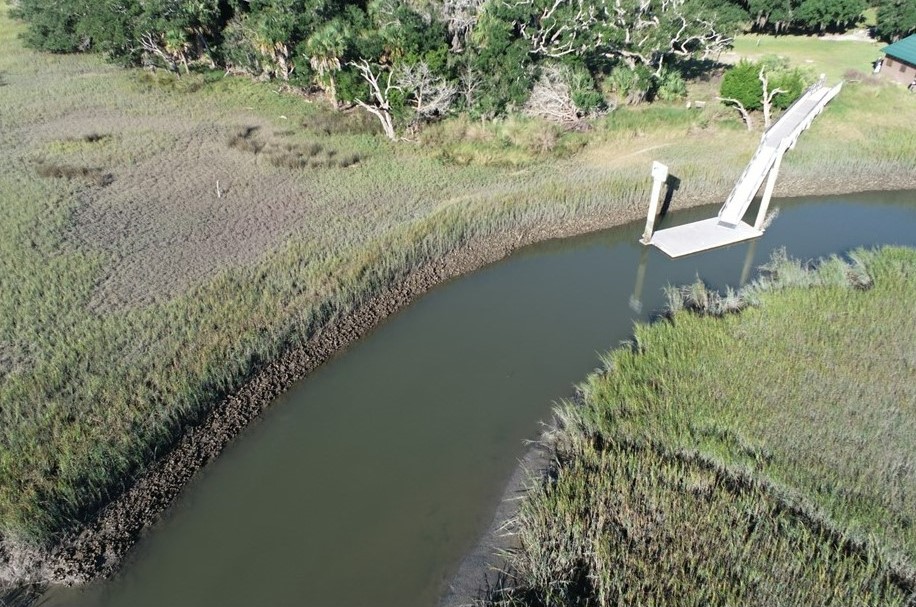 What are Living Shorelines?
A living shoreline is an erosion control technique that maintains or enhances the natural connectivity and processes between the land-water interface and is constructed using the strategic placement of mostly native materials to protect estuarine shorelines, absorb wave and tidal energy, and enhance coastal habitats. Living shorelines do not incorporate hardened vertical structures such as timber, sheet pile, vinyl, concrete, etc., as determined by the Department. 
The primary goal of a living shoreline is to stabilize the shoreline to reduce erosion while avoiding engineering designs that hinder or disrupt the natural connections between aquatic environments and adjacent uplands. Secondary goals include the preservation of tidal exchange, sediment conservation, natural plant communities and necessary shoreline dynamics associated with sea level rise.
Advantages of Living Shoreline Technique
Creates a vegetated buffer that absorbs and disperses wave energy thereby reducing erosion
Promotes ecosystem connectivity between the land and water to allow for animal access between upland and aquatic habitats
Mimics natural shoreline dynamics
Provides alternatives to the construction of rock revetments and bulkheads for erosion control
Can be equal to or less expensive than hardened structures such as bulkheads and rock revetments
Preserves, creates, or maintains habitat for aquatic plants and animals
Restores critical feeding and nursery habitat for fish
Can trap and retain land runoff containing nutrients and pollutants
Mitigates damage caused by storms and reduces stormwater flow
Reduces impacts of climate change by trapping carbon
Increases recreational opportunities including fishing, wildlife viewing, and kayaking
Increases aesthetic potential of peroperties
Living Shoreline Reports and Resources
Fourteen Years of Living Shorelines in Georgia (Coming 2024). 
If you have any questions regarding living shorelines, please contact Meghan Angelina at meghan.angelina@dnr.ga.gov or at (912) 264-7218.