Brunswick, GA
The votes are in and Georgians will soon have the opportunity to purchase a new motor vehicle license plate to support marine habitat conservation. Online voting ended last month and the winner is a plate designed by Cobb County graphic artist, Omar Murcia.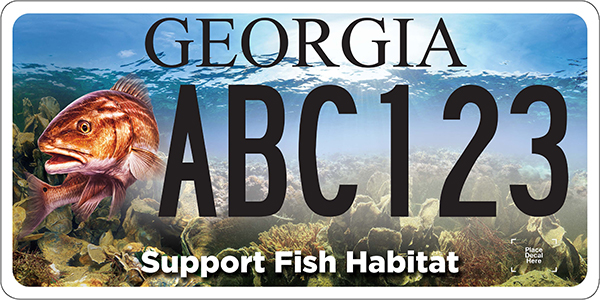 Murcia's marine habitat design was selected by more than 52% of voters and is his second winning plate design for DNR. In 2013, online voters chose Murcia's design of a soaring bald eagle for the plate that supports work of the DNR's Nongame Conservation Section. Sales of this newest plate will support the DNR's Coastal Resources Division programs to enhance marine habitat in Georgia's estuaries and the adjacent Atlantic Ocean.
Murcia's full color design features a red drum swimming over a living oyster reef. Commonly known as a redfish or spottail bass locally, the red drum was designated the official state saltwater fish by the Georgia General Assembly in 2006. 
"Given the popularity of red drum and its dependence on oyster reef habitat, it was a logical choice for the first marine habitat conservation license plate. The results of the online poll tell us that many Georgians will be visiting their tag offices this fall to put this colorful license plate on their vehicles," commented Spud Woodward, director of the DNR Coastal Resources Division. 
During the 2016 session of the Georgia General Assembly, members of the Coastal Conservation Association spearheaded an effort to get coastal legislators to amend Georgia law to authorize a new specialty motor vehicle license plate. A portion of the proceeds from sale of this plate would fund marine habitat enhancement along the Georgia coast. Representative Alex Atwood of St. Simons Island and Senator Ben Watson of Savannah shepherded House Bill 736 through the legislative process, and Governor Deal signed it into law during May.  
"Funds from sales of this license plate will be used in combination with Federal Aid in Sport Fish Restoration and donations from businesses, private individuals, and conservation groups such as the Coastal Conservation Association to enhance habitats used by a variety of marine species," says Woodward. "These habitats also provide fishing, diving, and wildlife watching opportunities for Georgia's citizens and visitors. Specific projects that will be funded are oyster reef creation, construction of man-made fishing reefs along the shorelines of Georgia's tidal rivers and creeks, and construction of man-made reefs in the Atlantic Ocean." 
The new marine habitat conservation plate will be available for purchase from local tag offices in October. The cost of the license plate will be $25 of which $19 will go into the marine habitat enhancement fund, $1 will go to the issuing tag office and $5 to the state treasury. The marine habitat enhancement fund will be administered by the Coastal Resources Division with advice from its Marine Fisheries Advisory Council.