Build Your Own Rain Barrel Workshops
The Georgia Coastal Management Program has partnered with Coca-Cola Beverages Florida to provide Make-Your-Own Rain Barrel Workshops for residents in coastal Georgia.  A rain barrel can save most homeowners 2,000 gallons of water each year which can be used for watering gardens, washing cars and other projects around the house.  Workshop participants will learn the importance of water conservation and the basics of rain water harvesting.  They will also get the chance to construct their own rain barrel to take home with them that day!
The inaugural workshop was held at Coastal Resources Division on January 19, 2012.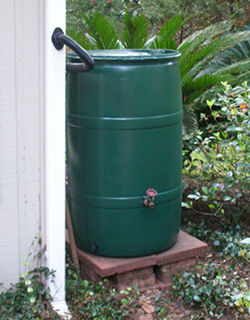 Workshop Schedule
Build Your Own Rain Barrel Workshops are back!!  Please join us on July 9th from 10am-12pm at Crooked River State Park in St Marys for our next workshop.  
The workshop will include a brief presentation followed by actual construction of your rain barrel to take home that day.  Your registration fee of $32 includes all of the materials needed for a complete rain barrel.  Registration will be limited to allow for social distancing and is required in advance.  Registration is available on a first come first serve basis and is available through this link:
https://rainbarrelworkshopcrookedriver.eventbrite.com 
Please reach out to Kelly Hill with any questions at Kelly.Hill@dnr.ga.gov or 912-264-7218