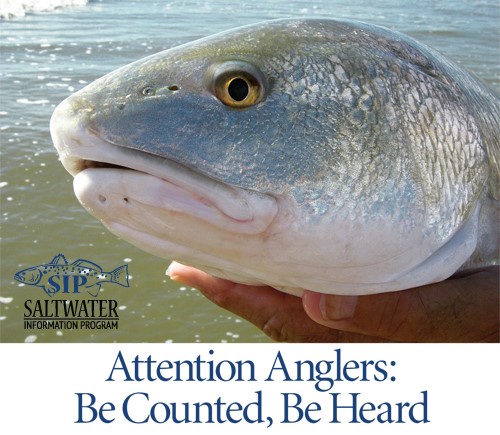 If you fish in saltwater, you need a SIP permit - it's FREE!
Anyone who holds a Georgia fishing license, including lifetime and senior license holders, who wants to fish in saltwater needs a FREE, annual SIP permit.  SIP permits are valid for a 12-month period starting March 1 and expiring on the last day of February of the following year.
The SIP permit is part of a comprehensive effort by the Georgia Department of Natural Resources to collect timely and accurate data from saltwater anglers for use in resource management. Other Saltwater Information Program (SIP) activities include volunteer fish tagging, a fish carcass donation project, and ongoing creel surveys of anglers and for-hire fishing guides.  Click here to read more about the Saltwater Information Program.
Since Georgia's fishing license covers both freshwater and saltwater fishing, the SIP permit helps identify individuals who saltwater fish in Georgia so they can be included in surveys. The SIP permit helps these surveys be cost-effective, and the results be as accurate and trustworthy as possible since they are so important to the management process.  Georgia's saltwater anglers can help by complying with this requirement and by participating in these surveys when contacted. 
Georgia saltwater anglers who have a valid fishing license with a SIP permit and who fish in the Atlantic Ocean beyond 3 miles offshore remain exempt from the federal requirement to have a National Saltwater Angler Registry permit. 
If you still have questions, please click here to access SIP Permit Frequently Asked Questions 
To Get Your SIP Permit
Download via the internet 
Click here to access the Online License System for Georgia DNR.
Here you can buy a license, print a replacement, or obtain free permits.
Obtain it from any current license vendor
Click here to find a License Agent in your area​.
Obtain it over the phone
call 1-800-366-2661- (M - F from 8 a.m. - 8 p.m. and Sat - Sun from 9 a.m. - 5 p.m.)
Use a Smartphone App 
Use the Outdoors Georgia app (download from Apple or Google Play store). You can store your license on the app, get tide, sunrise/sunset information, and more.
For Lifetime or Senior License Holders
If you have a lifetime or senior license, you will be able to print a paper version of the SIP permit and carry it when you saltwater fish in Georgia. 
Still Have Questions?
If you still have questions, please click here to access SIP Permit Frequently Asked Questions