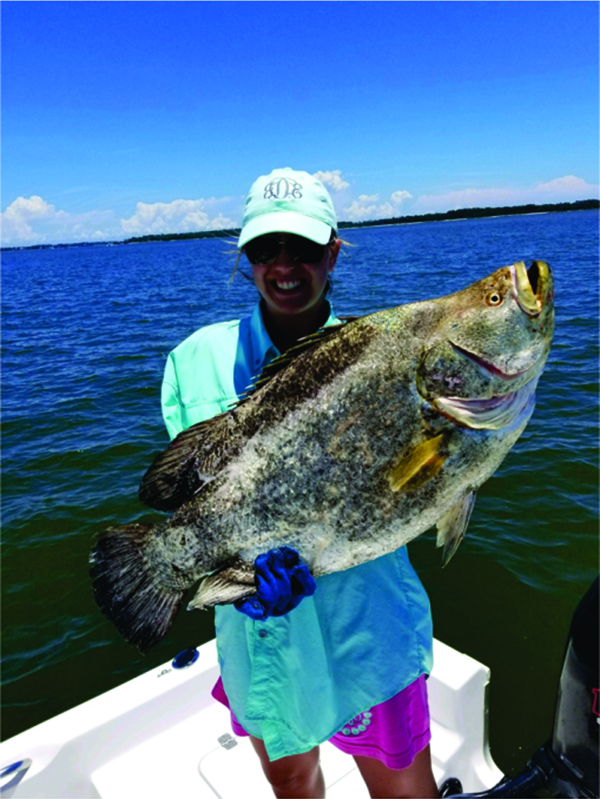 Brunswick, GA
The Georgia Department of Natural Resources has announced a new women's state record for Tripletail, Lobotes surinamensis, landed in Georgia by Jordan Davis of Brunswick.

On June 3, 2017, Davis caught a 29-pound, 6-ounce tripletail while fishing St. Andrews Sound with Captain John Davis aboard the Sea Quest. Davis's new state record catch replaces the long-standing record of 22-pound, 7-ounce set in 1994 by Joan Thigpen.
Davis received a certificate from the GA DNR acknowledging her record catch, which will be added to the Georgia Saltwater Gamefish Records list published at www.coastalGaDNR.org and included in the 2018 Georgia Sport Fishing Regulations.

Tagging studies have revealed that Florida and Georgia share a migratory population of the tripletail. Fish spend the winter in south Florida waters before returning to Georgia during the spring where they remain until November. A unique fishing opportunity exists in the Atlantic Ocean waters off Jekyll Island during spring and early summer where anglers look for tripletail on or near the surface. The more traditional and still popular approach with Georgia anglers is to target tripletail around structures such as pilings and buoys.

Anglers wishing to enter a fish for a new state record must be sure to have the fish weighed on a certified scale in the presence of at least one witness. Anglers should first check with local seafood markets then grocery stores and feed-and-seed stores. During business hours, anglers can have their catch weighed at the DNR Coastal Regional Headquarters in Brunswick.

A listing of the rules and current men's and women's records can be found at www.CoastalGADNR.org, along with information on how to submit a fish for consideration. In addition to an accurate weight, it's important to provide several photographs of the fish along with the application. There are also minimum weights for several species. For more information, contact the Coastal Resources Division at (912) 264-7218.