The Coastal Resources Division (CRD) of the Georgia Department of Natural Resources (DNR) is investigating the sinking of a commercial vessel that happened Wednesday evening in Jekyll Creek off Jekyll Island.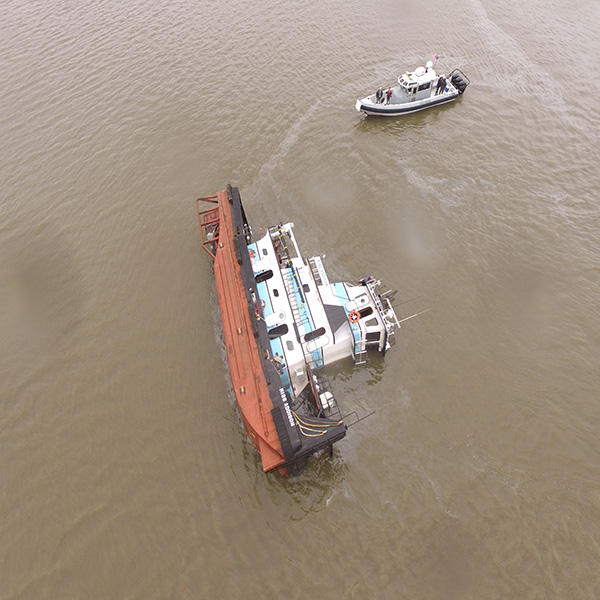 No one was injured in the sinking, which occurred at about 6 p.m. Wednesday, according to Cpl. Kate Hargrove of DNR's Law Enforcement Division.
The 56-foot tug Miss Addison sank in about 8 feet of water just west of Jekyll Creek's main channel. The sinking site is southwest of the Jekyll Island airport.
CRD staff are currently investigating if the sinking has caused damage to the environment. Staff surveyed the sinking site around 10 a.m. Thursday using an unmanned aerial vehicle and GPS equipment.
The Compliance and Enforcement Unit of CRD has contacted the vessel's owner and insurance company. All parties responsible for the vessel are cooperating with CRD.
The owner of the vessel is coordinated with marine heavy-lifting services to have the vessel removed.
"The goal is to refloat the vessel as soon as possible," said Buck Bennett, CRD's Compliance and Enforce­ment manager. "They're going to try to get it floated by Christmas."
The Miss Addison took on approximately 4,150 gallons of fuel on Wednesday in Charleston, S.C., and was estimated to have about 3,500 gallons remaining Thursday afternoon, according to Cpl. Hargrove. CRD staff observed a sheen on the water Thursday morning and it is suspected the fuel is leaking into Jekyll Creek.
A fuel cleanup crew is also set to begin work at the site as soon as possible, Bennett added.
A recreational oyster harvesting area is southwest of the sinking site, but is not expected to be impacted by the fuel spill, according to Cason Kinstle, a shellfish specialist with CRD.
"Because of where the ship sank, the tide is carrying any fuel away from the harvesting areas," Kinstle said. "It's also so far away from the harvesting site that we don't anticipate it being a problem."
CRD is the division of DNR entrusted to manage Georgia's coastal marshes, beaches, waters and fisheries for the benefit of present and future generations. The division strives to be an agency of knowledgeable and compassionate professionals who are trusted, respected and empowered to help the public be good stew­ards of Georgia's natural assets and socio-cultural heritage. It is headquartered in Brunswick.