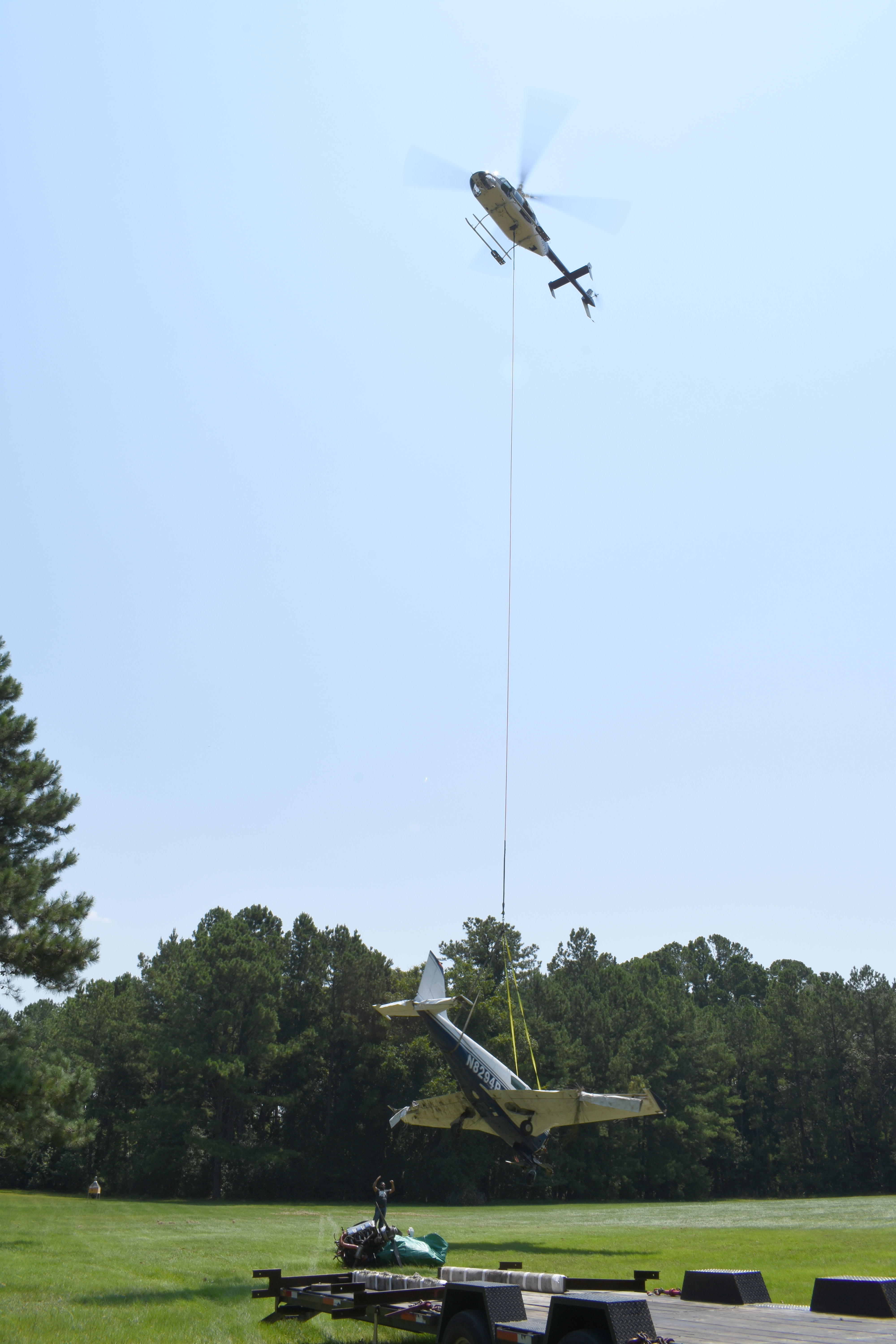 Brunswick, Ga.
The Coastal Resources Division (CRD) of the Georgia Department of Natural Resources (DNR) today oversaw the removal of a single-engine airplane that crashed Saturday in the marsh north of Brunswick.
Neither the pilot nor the two teenaged passengers were injured in the crash, which took place at about 3 p.m. Saturday.
Florida Air Recovery, an aircraft transport and accident-site cleanup contractor based in Jacksonville, Fla., used a helicopter to remove the Piper PA-24-250 Comanche at about 11:30 a.m. today. CRD worked with DNR's State Parks and Historic Sites Division to use Hofwyl-Broadfield Plantation State Historic Site as a location to bring the crashed plane. The plane was safely transported out of the marsh in two pieces: First, the plane's engine was removed to reduce the weight; The fuselage was removed second.
CRD officials were joined by representatives from the plane-owner's insurance company, Starr Indemnity & Liability Co., to observe the removal, along with an aviation safety inspector from the Federal Aviation Administration. The pilot was also present.
Because the pilot cooperated fully with CRD and removed the aircraft, no civil fines will be levied. The Georgia Coastal Marshland Protection Act prohibits the unauthorized use of the state's marshlands. The plane crash did minimal damage to the marsh and no further remediation is required at this time.  
"We would like to thank the pilot for cooperating with CRD and removing the aircraft promptly," said Buck Bennett, CRD's compliance and enforcement officer. "We also appreciate our sister agency, State Parks and Historic Sites, for working with us and allowing us to use Hofwyl-Broadfield Plantation as a landing and staging area for the removal operation."
The aircraft, tail No. N8294P, is registered to Cleane Corp. of Lemont, Ill., and was traveling from the Chicago area to St. Simons Island when it crashed. Early investigations indicate the pilot ran out of fuel.
Anyone with further questions may contact CRD's communications specialist, Tyler Jones, at 912-262-3140 or tyler.jones@dnr.ga.gov.
---
Additional media: