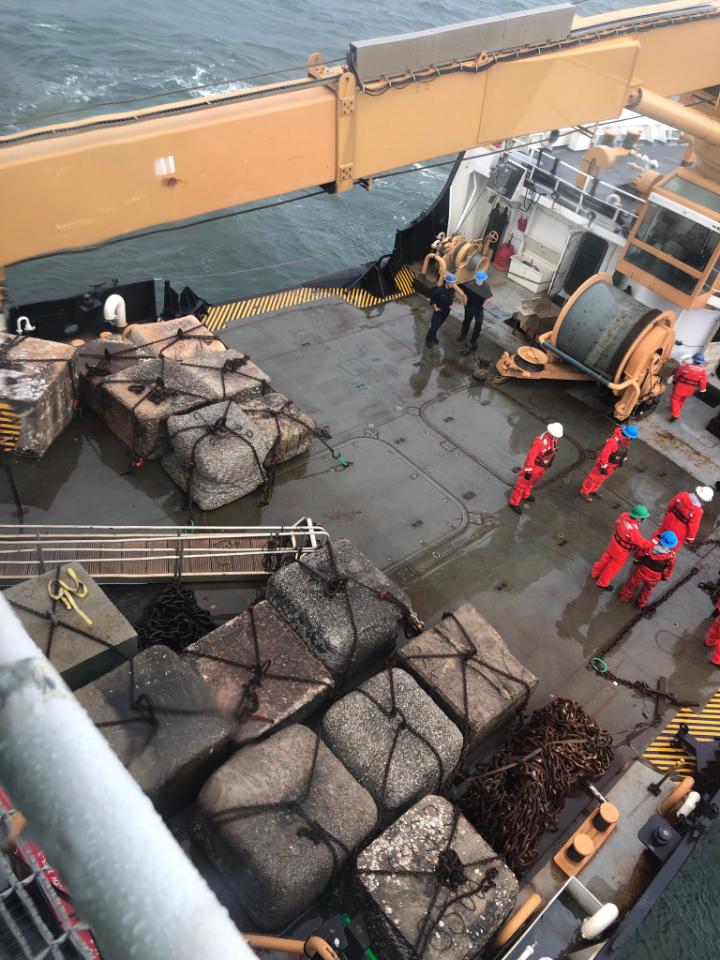 Brunswick, Ga.
The Coastal Resources Division (CRD) of the Georgia Department of Natural Resources recently deployed about 110 tons of donated concrete anchors as an enhancement to artificial beach reef BSF.
The BSF reef is four nautical miles southeast of Little Tybee Island. This deployment is part of a long-term partnership with the United States Coast Guard to repurpose retired materials and enhance fish habitat at BSF reef.
The donated concrete anchors were formerly used to moor navigational buoys and were donated at the end of their lifespan to Georgia's Artificial Reef Program. The buoy tender, Coast Guard Cutter Willow, deployed the concrete materials in 32 feet of water clustered at 80°50'5.495"W, 31°54'5.676"N, near the center of the reef.
"This is a great opportunity for both Georgia and the U.S. Coast Guard," said CRD biologist Cameron Brinton. "The Coast Guard has a regular supply of these anchors, and as they become too worn to be used to moor a buoy and would have to be otherwise disposed of. Deploying them at reefs as they transit through the area for other work creates essential fish habitat at little cost to the state or Coast Guard."          
The concrete materials will provide a stable surface in an environment characterized by strong currents and wave action. Materials will be quickly colonized by barnacles, soft corals and sponges. These organisms will provide the basis of a food web that will attract saltwater gamefish such as sheepshead, black sea bass and king mackerel, as well as numerous other species that use the reef as foraging and refuge habitat.  CRD staff will monitor the site using side scan sonar to document the structural integrity of the materials, as well as the fish and invertebrate abundance and diversity.
Media Contact – Tyler Jones, tyler.jones@dnr.ga.gov