Brunswick, GA (August 15, 2017) - The Coastal Resources Division (CRD) of the Georgia Department of Natural Resources has created a new offshore reef site in partnership with the Savannah Sport Fishing Club. Artificial Reef BSF is located four nautical miles southeast of Little Tybee Island in an area 30 feet deep at high tide.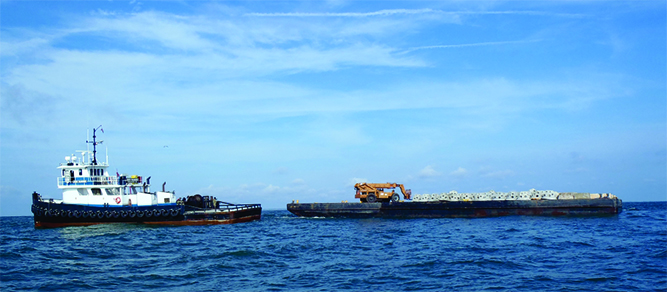 "The Savannah Sport Fishing Club (SSFC) is very excited to fund the first deployment of material at new BSF offshore reef.  Our members have always been very generous in support of projects that enhance fishing in and around Savannah.  Last year marked the 50th anniversary of our organization, and we hope to continue to provide funding to further enhance this reef in addition to others in order to provide years of enjoyment for anglers of all ages," said Mic Sweeney, President of the Savannah Sport Fishing Club.
Seventy-two concrete pallet balls, 5-ft in diameter, 3-ft tall and weighing approximately 1,300 lbs., and 24 donated concrete sinkers, 5-ft wide, 2-ft tall, and weighing between 2 and 3 tons each, were deployed at the site.
Besides the support of the SSFC, the United States Coast Guard, Federal Law Enforcement Training Center, and TW3 Transportation of Pooler Georgia provided material handling and transportation services. Biblia, Inc. of Savannah deployed the materials, grouped in clusters, outward from the reef center point (31°54.101'N/-80°50.048'W) along a north - south path to create a trolling alley for those targeting striking fish such as king and Spanish mackerel.           
The concrete materials will soon be colonized by barnacles, soft corals and sponges providing the basis of a food web that will attract saltwater gamefish such as grouper, sheepshead, black sea bass and king mackerel, as well as numerous other species that use the reef as foraging and refuge habitat.  CRD staff will monitor the site using side scan sonar to document the structural integrity of the materials, as well as the fish and invertebrate abundance and diversity.
The CRD offshore artificial reef project is made possible by Federal Aid in Sport Fish Restoration, fishing license funds, private donations, and partnerships with local organizations that are interested in enhancing offshore fishing and diving opportunities.
Media Contact – Nancy Butler 912.262.3140; nancy.butler@dnr.ga.gov