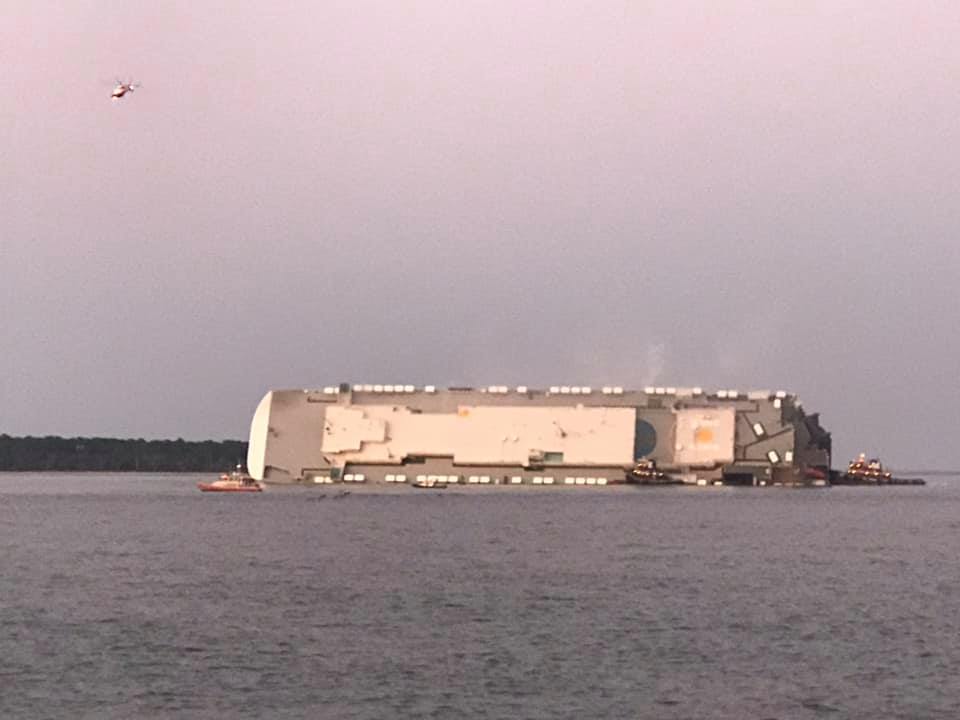 Brunswick, Ga.
The Georgia Department of Natural Resources (DNR) is monitoring coastal environmental conditions following the capsizing of a commercial freight vessel in the St. Simons Sound early Sunday morning.
As of about 9 a.m. Sunday, the 656-foot, 71,000-ton vessel Golden Ray was on fire and the U.S. Coast Guard was working to rescue four crewmembers trapped inside, according to U.S. Coast Guard Lt. Christopher Pace of the guard's Marine Safety Unit in Savannah.
An emergency spill response crew is stationed and ready nearby at the city of Brunswick boat ramp beneath the Sidney Lanier Bridge, Pace added. The Coast Guard is preparing to deploy spill containment booms around the Golden Ray. It is unclear at this time if fuel has leaked from the ship.
The Coastal Resources Division of DNR will conduct water-quality sampling to ensure the safety of shellfish harvesting beds and swimming beaches. Shellfish harvest and beach closure updates can be found at CoastalGaDNR.org.
The Georgia Environmental Protection Division, a branch of DNR, has been notified of the capsizing and is monitoring the situation.
The Golden Ray is a roll-on, roll-off ship used to transport vehicles. There were 4,200 vehicles aboard the ship when it capsized, Pace said.
For updates, visit CoastalGaDNR.org and follow CRD on Facebook by searching "Coastal Resources Division – Georgia DNR".