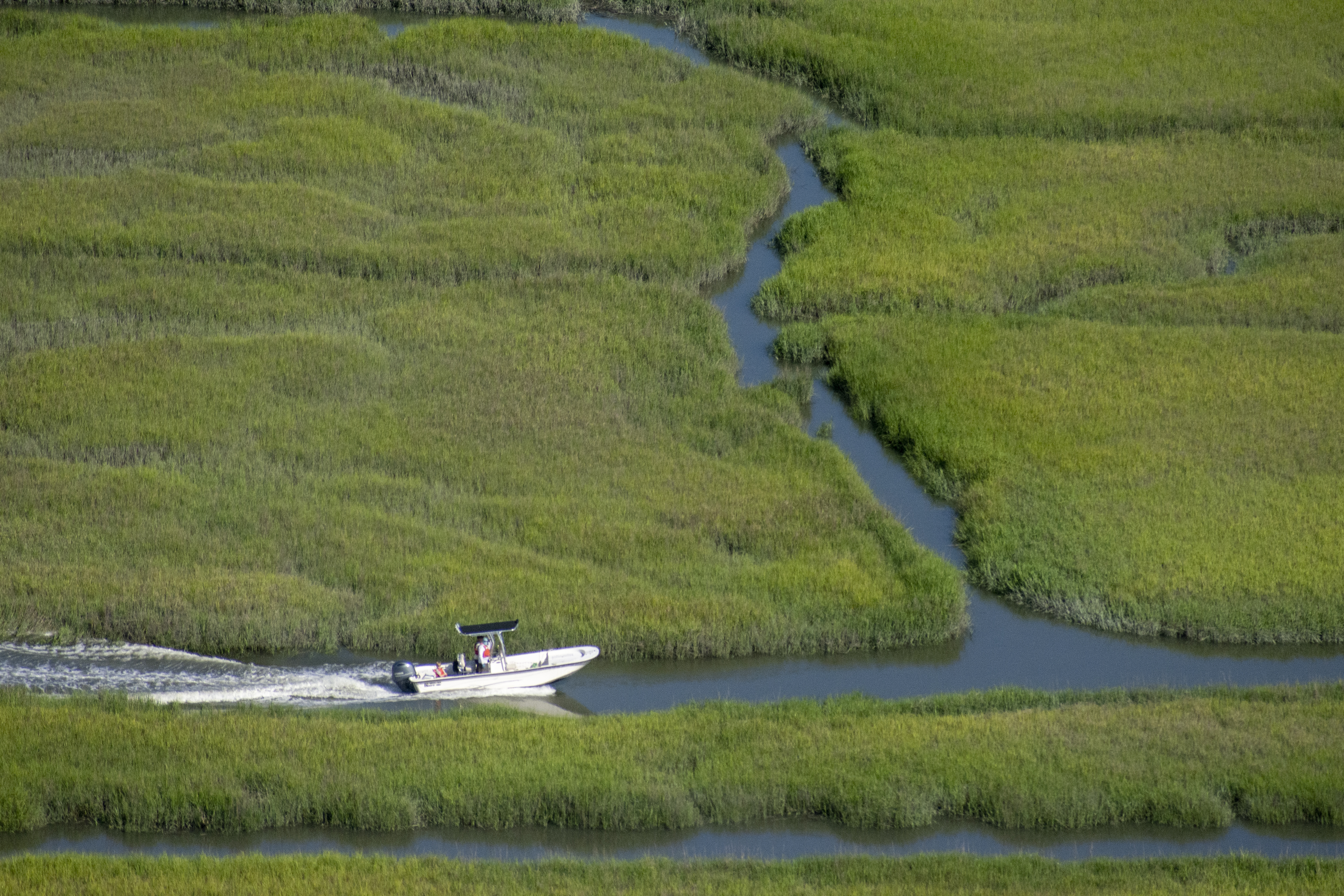 Brunswick, Ga.
As temperatures rise with the official beginning of summer and more Georgians take to the state's waterways to cool off, the Georgia Department of Natural Resources is highlighting the importance of boating safety.
Each year, an average of 650 people die in boating-related accidents in the United States. More than 75 percent of these fatalities are caused by drowning, and most accidents are triggered by boater error or poor judgment, rather than mechanical or environmental factors. In Georgia alone, there were 14 boating-related fatalities, 67 injuries, and 114 incidents in 2021.
Capt. Chris Hodge, a supervisor for DNR's coastal law enforcement Region 6, said boaters can help keep themselves and others safe by following a few simple rules while enjoying the Peach State's waters.
"Whether you're out on saltwater estuaries or freshwater lakes and rivers, safety should always be on your mind," Capt. Hodge said. "It starts with wearing a life jacket. Over 85 percent of drowning victims would likely still be alive today if they'd been properly wearing their life jackets. The law says you must have a serviceable life jacket on board for every person on your boat, and we encourage people to actively wear them."
Children under the age of 13 are required to wear a life jacket at all times on the water unless the child is within a fully enclosed cabin. While people 13 and older are not required to wear their life jackets, the practice is strongly encouraged.
Capt. Hodge noted that even experienced DNR game wardens, who are trained in high-stakes boat operations, wear life jackets every time they take to the water.
Boaters, like automobile drivers, also have personal responsibilities while navigating waterways. Operating a boat under the influence of drugs or alcohol is just as illegal as drunk driving, Hodge noted.
"The same rules that apply to driving a car apply to boating when it comes to intoxication," he said. "Our game wardens do not give warnings for boating under the influence. We cannot take the chance that you will not hurt yourself or someone else. On top of that, drunk boaters often become drunk drivers after they leave the waterways and head home. Don't take that chance of ruining your life, or someone else's life."
And just like driving a car, there are "rules of the road" for operating a boat. Georgia's "100-foot law" requires all vessels, including personal watercraft, to slow to an idle speed within 100 feet of people in the water, docks, piers, bridges, and shorelines. Boaters must also slow down when approaching other vessels unless they are passing or overtaking the other vessel.
In coastal Georgia, where creeks and rivers meander through sharp curves, it's particularly important to understand the nautical "rules of the road." State law requires boaters to move as far to the right of the channel as possible, to reduce speed in case an unexpected stop is necessary, and to sound a blast of eight to 10 seconds' duration if a sound device is available.
Other "rules of the road" for boat operation include:
When meeting another vessel, boat operators should pass on the right side unless the boats are far enough apart that they are not meeting head-on or close to head on

In a crossing situation, the boat on the right should hold its course and the boat on the left should slow down and cross behind the other boat

Powerboats always should yield to sailboats
Operating a vessel at night can also add further challenges to safe operation, and boaters should take several extra precautions. Georgia law requires some form of lighting for every vessel--even nonmotorized—operating at night. Boaters can learn about the specific requirements for their boat by downloading "The Handbook of Georgia Boating Laws and Responsibilities" by clicking here.
"Boaters should always operate at a slower speed at night," Capt. Hodge said. "And they need to keep a sharp lookout for the lights of other vessels. The same rules of navigation for daytime apply to night operation, but vessel captains need to be much more attentive. You cannot assume that every other boater out there is operating with proper lights. Your best bet is to slow down, be attentive, and pilot your vessel defensively."
Other night navigation tips include:
Be sure your vessel's lights are functioning properly, and carry extra bulbs

Use a 360-degree white light whenever the vessel is anchored

Reduce your speed and use caution; give yourself extra time to reach your destination

Keep watch for obstructions in front of you

Never travel alone; have an extra set of eyes to help you keep watch

Stop if visibility is severely restricted and wait for conditions to improve; use sound signals to alert other boaters to your presence
It's also important to know what changes may have occurred on waterways, especially in the coastal environment. The U.S. Coast Guard issues regular "Notice to Mariners" bulletins which can educate boaters about new aids to navigation, hazards, and other important information. Visit https://msi.nga.mil/NTM to view the latest notices and sign up for notifications.
If using a computer-aided GPS, boaters should regularly update their software using the manufacturer's instructions to ensure the latest charts are at their fingertips. The National Oceanic and Atmospheric Administration updates navigational charts on a regular basis to indicate changes.
But while technology can help boaters navigate safely, there is no replacement for old-fashioned sight and sound, Capt. Hodge said.
"GPS and radar can be important aids for boaters, but technology is no substitute," he said. "Boaters need to keep their eyes peeled and remain vigilant while navigating, especially at night. Slowing down can also drastically decrease the likelihood of an accident by giving the vessel operator more time to react to changing conditions."
Georgia's tidal amplitude is among the widest on the east coast and can create its own difficult circumstances. At certain times of the month, tides can range as much as 9 feet in places. This twice-daily tide cycle will impact the navigability of creeks and rivers and can produce fast-moving currents. Boaters can check the tide cycle before taking to the water by visiting https://CoastalGaDNR.org/CoastalBoating and navigating to the "Tide Chart" section to download a free 2022 tide chart.
Tides can also shift and shape sandbars in short order. Just because an area was passable last week does not necessarily mean it's in the same condition this week. Slowing your speed in shallow areas can increase safety and reduce the chance of running hard aground.
Navigating Georgia's waterways can be a challenge for even the most experienced vessel operator. That's why Georgia DNR offers a free, online boating safety course for everyone from first-time boaters to seasoned mariners. The course is available at https://BoatUS.org/Georgia.  
"A refresher is always a good thing," said Capt. Hodge. "Sometimes we get complacent when we've been doing something for a long time. We see boating accidents on the news and think, 'But that won't happen to me.' Unfortunately, it can, and it does. Taking a free refresher course can help boaters stay mindful of their responsibilities and proper boating safety and etiquette."
 Most of all, Capt. Hodge said he wants Georgians and visitors to the state to enjoy their time on the water, and head home safe at the end of the day.
"We are fortunate to have lots of opportunities to access the water here in Georgia," Capt. Hodge said. "We want people to have fun, be responsible, and continue to make outdoor memories for many years to come. We can all do that by keeping safety on our mind and acting with respect for ourselves and other boaters."