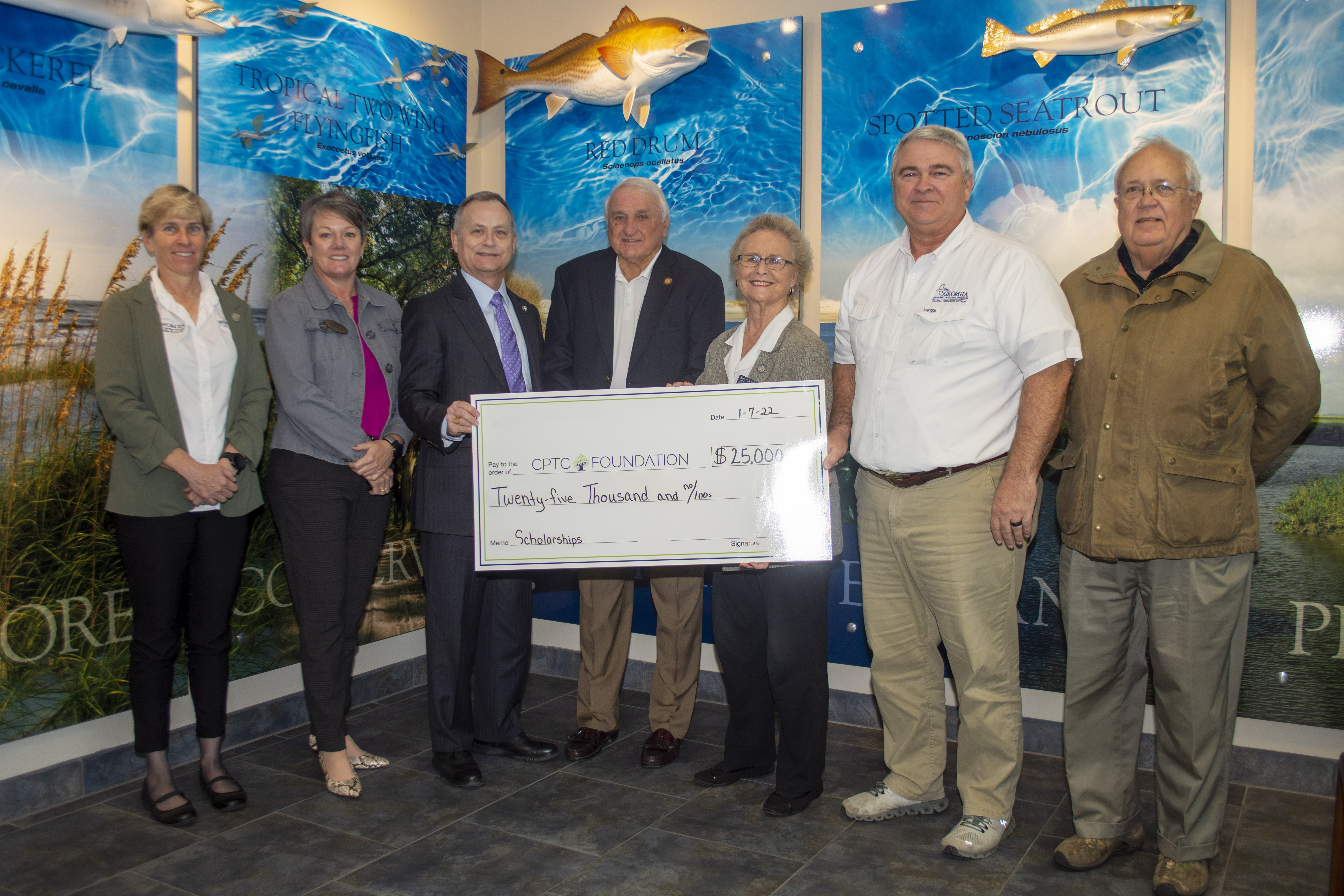 Brunswick, Ga.
The Georgia Department of Natural Resources (DNR) and Coastal Pines Technical College Foundation today announced a new scholarship and endowment program to invest in the next generation of Georgia's commercial fishermen.
The "Georgia Commercial Fishing Sustainability and Resilience Endowment "and the "Georgia Commercial Fishing Scholarship," funded by DNR's Coastal Resources Division (CRD), will aid Coastal Pines Technical College students enrolled in the college's Basic Commercial Fisherman Program. Qualified students can apply for financial aid to cover tuition, equipment, training, and commercial fishing licenses, according to an agreement signed between the foundation and CRD in December 2021.
"There is a growing concern from commercial fishing vessel owners and dock owners about the lack of trained crew to replace the industry's participants as they retire and leave the fishery," said Carolyn Belcher, CRD's chief of marine fisheries. "With this new scholarship and endowment, our goal is to incentivize students to pursue careers in commercial fishing across the Georgia coast."
Funding for the endowment and scholarship comes from a 2019 U.S. Commerce Department's aid allocation for a fishery failure that occurred during Georgia's 2013 shrimp season. During that season, commercial shrimpers saw a 58 percent reduction in harvest, prompting then-Gov. Nathan Deal to request federal aid.
Julie Califf, a CRD fisheries data specialist, helped oversee CRD's disbursement of $1.06 million in fishery failure aid from the Commerce Department. While much of the disbursement was direct aid to affected fishermen, she noted the funds could also be used to educate and recruit new industry members.
"One of the things federal rules let you do with the money was job training, so it seemed like a natural fit," Califf said. "At the time, Coastal Pines Technical College had just started a program to educate students in commercial fishing, and we saw a need to help fund some of the equipment and other financial hurdles."
Aid funds donated by CRD include $20,000 to an interest-bearing endowment overseen by the foundation, along with $5,000 in scholarship funds available for immediate distribution by the foundation.
Stephanie Roberts, the college's executive director of college advancement, said she and Coastal Pines faculty and staff are excited to put the endowment and scholarship to work.
"We are so thankful to the Coastal Resources Division and the Department of Natural Resources," she said. "This endowment and scholarship will help ensure that this important coastal industry has the workforce it needs for the 21st century. We are proud partners with Georgia DNR and are happy to train the future generations in this staple industry of coastal culture."
Media or members of the public who have questions may contact Tyler Jones, CRD's public information officer, at tyler.jones@dnr.ga.gov or 912-262-3140. Scholarship qualifications should be directed to Coastal Pines Technical College.