Commissioner of the Department of Natural Resources (DNR), Mark Williams has announced the appointment of Doug Haymans to serve as the director of the Coastal Resources Division (CRD) of DNR succeeding A.G. "Spud" Woodward who is retiring effective January 1, 2018.  The Board of Natural Resources will take action to approve Mr. Haymans appointment at its December meeting.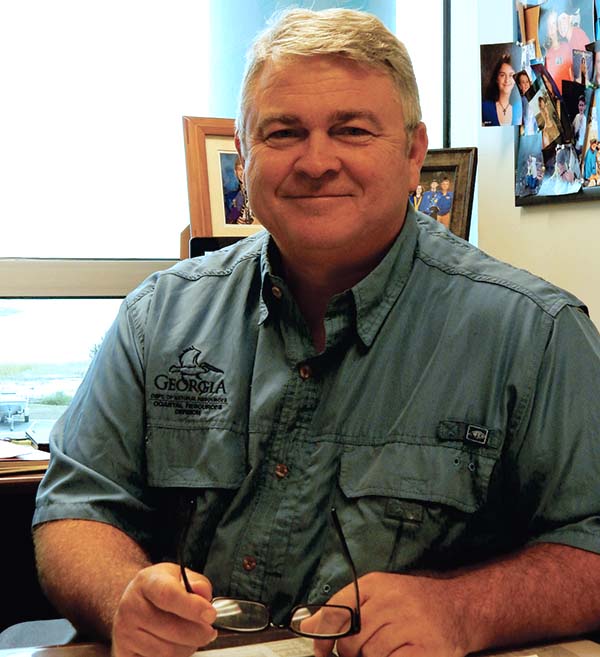 Mr. Haymans has been with CRD for over 17 years serving most recently as coordinator for policy, outreach and communications and representing Georgia on the South Atlantic Fishery Management Council.  Earlier in his career, he supervised boating/fishing access and habitat development, served as commercial fishing liaison, and coordinated special projects such as the Peach State Reds Initiative.  Mr. Haymans worked as a fisheries biologist for the Florida Fish and Wildlife Conservation Commission before employment with CRD.  He holds a B.S. in Biology from the University of Georgia and is a graduate of Leadership Glynn and the Institute of Georgia Environmental Leadership.
Based in Brunswick, CRD administers the Coastal Marshlands Protection Act and Shore Protection Act; manages shellfish harvest areas; conducts research, management and development activities associated with recreational and commercial fishery resources; represents Georgia on regional marine fishery boards and commissions; and builds boat ramps, artificial reefs, and fishing piers. CRD has primary responsibility for the Protection of Tidewater/Right of Passage Acts.
"I am excited to announce Doug Haymans as the next director of the Coastal Resources Division and am confident he will rise to the challenge of protecting our state's precious resources in this capacity," said Commissioner Mark Williams.  "Doug is a subject matter expert on coastal issues and a tremendous leader which makes him a perfect fit to assume the role of director."
Mr. Haymans and his wife of 26 years, Tonia, attend First Baptist Church in Brunswick.  He recently served as the vice-chair of the Brunswick High School Parent-Teacher Council and on the Executive Committee of the Brunswick High Band Boosters. He is the proud father of two children, Jacob, a senior at Belmont University in Nashville, and Sarah, a freshman at Georgia Tech.
"I am humbled and excited by the enormity of this opportunity to lead the team of committed professionals that is CRD," Haymans said. "I have some big shoes to fill following the retirement of current director Spud Woodward.  He has served this state with honor and distinction for over 33 years.  I hope to lead this division with the same integrity and success that he has exhibited during his career."