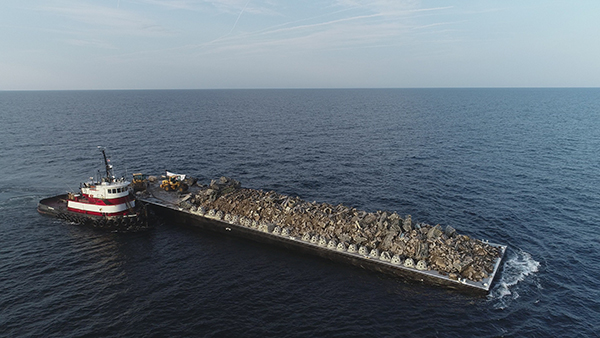 The Coastal Resources Division (CRD) of the Georgia Department of Natural Resources recently deployed ~3,000 tons of concrete and metal materials, donated by multiple partners, as an enhancement to Artificial Reef DRH – located 15 nautical miles east of Little St. Simons Island, Georgia. This is the first deployment completed at DRH Reef since October 2012.
This reef project was made possible by funding from Federal Aid in Sport Fish Restoration and donations from the Sapelo Saltwater Fishing Club(SSFC), the Coastal Conservation Association (CCA) of Georgia and the Building Conservation Trust (BCT)– CCA's National Habitat Program. "As a longtime partner in habitat enhancement, CCA is proud to partner in this large scale DRH reef deployment. The scope of this undertaking illustrates that partnerships between multiple like-minded organizations create conservation and habitat projects larger than the sum of their parts," commented Kevin Rose, Chair of CCA's Habitat Committee.
"Sapelo Saltwater Fishing Club has a long history of supporting the state's reef projects. We are pleased to partner with CCA to create this very large enhancement project," said Bill Mercer, President of SSFC. "More habitat means more fishing for all of us."
CRD's reef surveys have shown that concrete and metal materials are very productive when placed on the seafloor attracting a variety of fish targeted by anglers. "We recognize the value of Georgia's coastline and marine resources, as well as understand its importance for local economies," said John Carlson, chairman of BCT. "This project will create opportunities for members of the fishing community for many years to come."
Donated materials were provided by Fieldale Farms, Claxton Poultry Farms, and the City of Brunswick and were deployed at East (31°17.130'N / 80°57.124'W) to West (31°17.154'N / 80°57.380'W) in approximately 65 feet of water. 
Within the next year, CRD staff expect this addition to DRH Reef to be producing catches of black sea bass, sheepshead, and flounder, as well as holding baitfish that, in turn, will attract king and Spanish mackerel. Using side scan sonar and diver surveys, CRD staff will monitor the site to document the structural integrity of the materials, as well as the fish and invertebrate abundance and diversity.