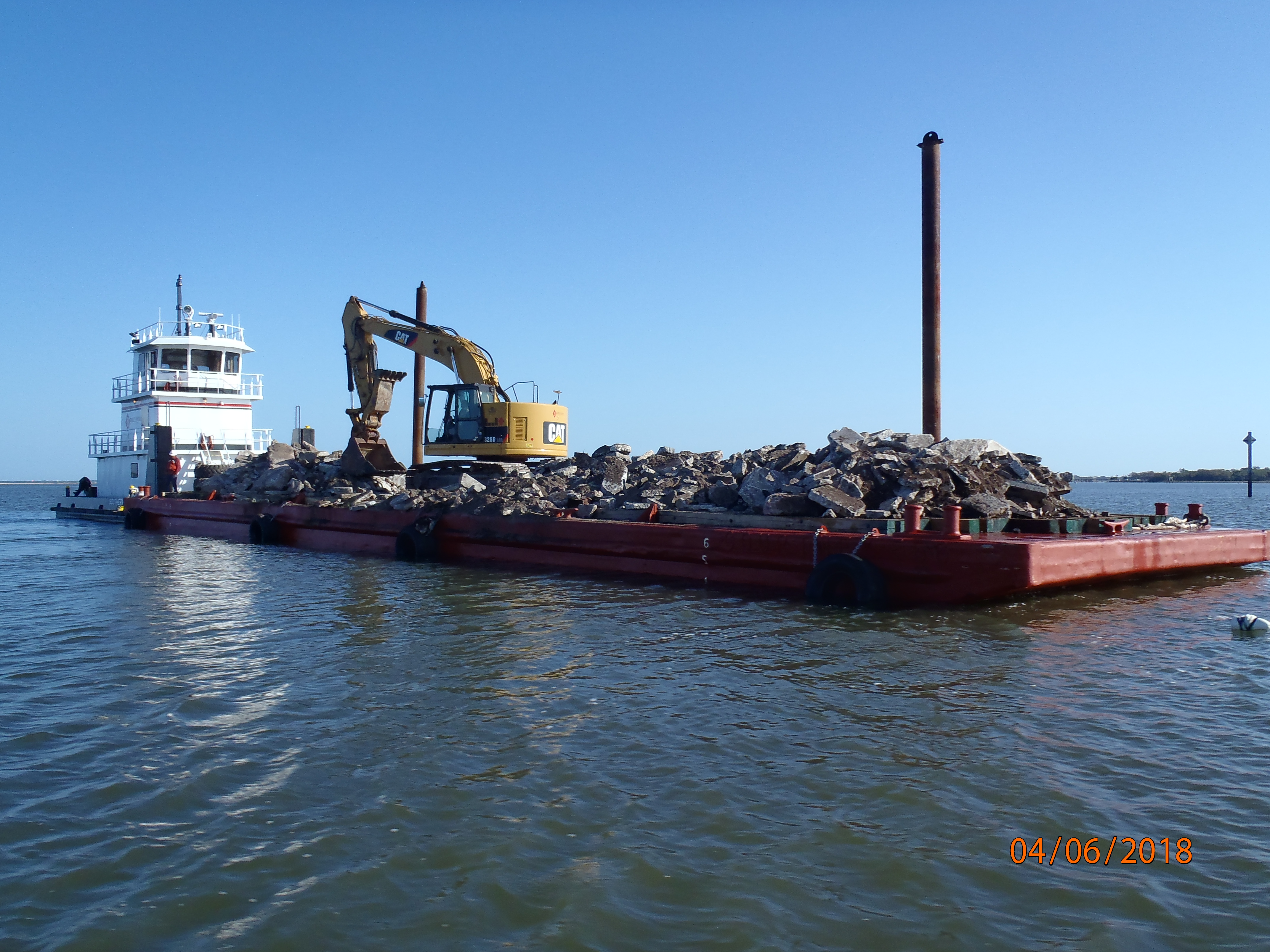 The Coastal Resources Division (CRD) of the Georgia Department of Natural Resources (GADNR) has recently completed an enhancement of the Henry Vassa Cate inshore artificial reef located in St. Simons Sound one mile south southwest of the Jekyll Island Pier in Glynn County.  The project is the first to be completed with funds from the 2017 Enhanced Fishing License Revenue bill passed by the Georgia Legislature.
"We are excited to announce the first expenditure of enhanced fishing license revenues granted by the 2017 legislature," stated Doug Haymans, CRD Director.  "We are grateful that Georgia's coastal anglers enthusiastically supported the first increase in over 25 years.  Anglers want to see more habitat created, better access facilities and more sportfish research.  Enhancing this inshore reef site is the first in a long list of planned enhancement projects for both inshore and offshore reefs during 2018 and 2019."
Formerly known as Twin Sisters, the Henry Vassa Cate (HVC) inshore artificial reef site was established in 1987 to create fish habitat through the utilization of Fish Aggregating Devices.  In 1992, donated concrete pilings were deployed as a materials enhancement in the northwest corner of the 400' x 400' site. Four wooden marker pilings were replaced with concrete pilings in 2015, in partnership with the Coastal Conservation Association of Georgia, to ensure that the inshore reef site continued to be clearly marked. Located midway between Golden Isles Marina and Jekyll Island Marina, the recently completed project added concrete rubble donated by the City of Brunswick.
The HVC inshore artificial reef is one of 15 inshore manmade fish habitats along the Georgia coast. Materials deployed at these sites become encrusted with oysters, barnacles, and other marine life creating shelter and feeding opportunities for a variety of fish species popular with recreational anglers.  CRD conducts annual side scan sonar surveys to assess the integrity of materials at all inshore artificial reef sites as part of permitting requirements.  Today, much of the reef material at HVC is visible at low tide and remains stable without any signs of settling.
In addition to funds from fishing licenses, the inshore artificial reef projects receive funding from Federal Aid in Sport Fish Restoration and material donations from conservation partners.