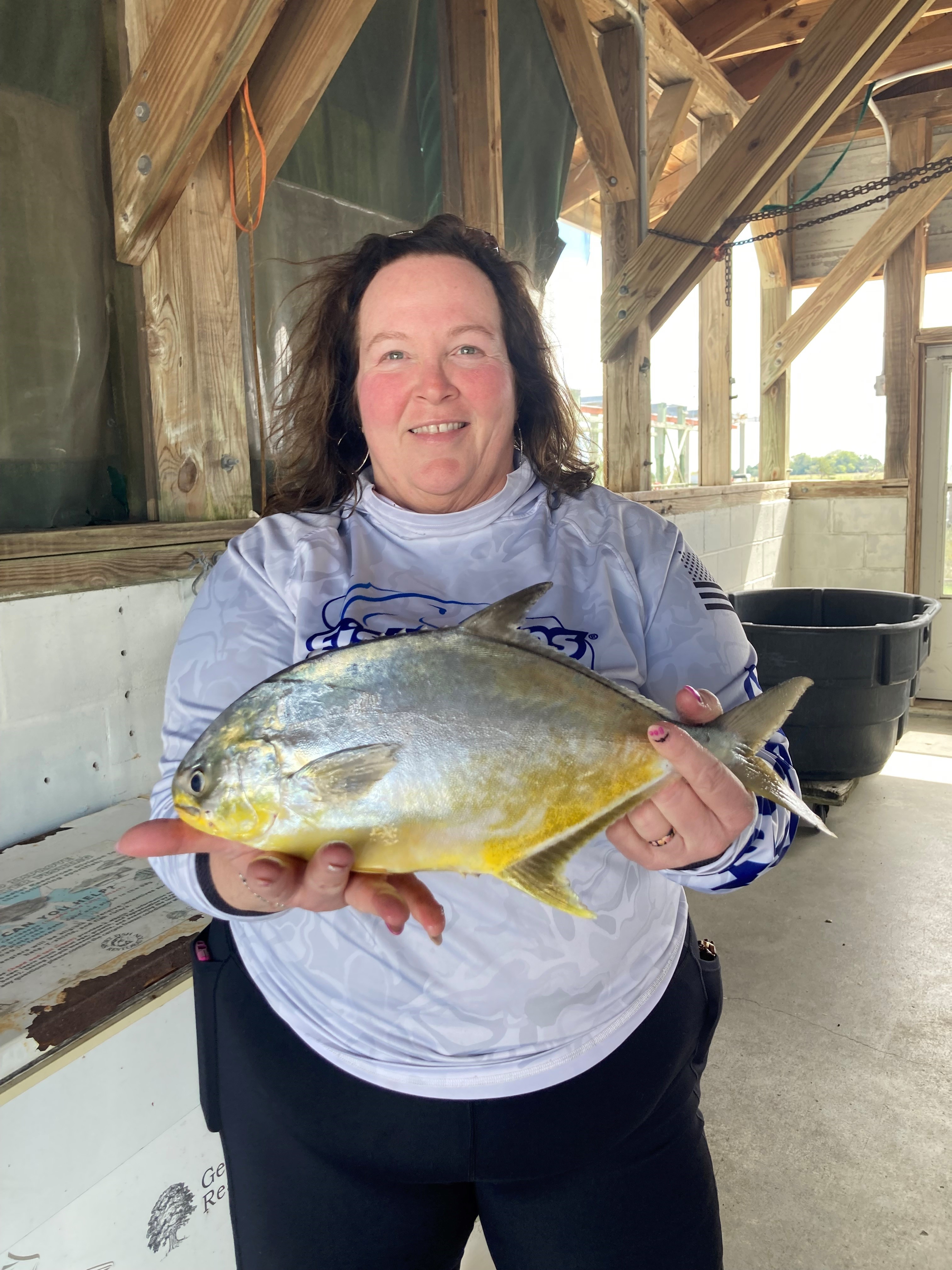 Brunswick, Ga.
A Jacksonville, Fla.-woman was recently certified by the Georgia Department of Natural Resources (DNR) as the new state women's saltwater record holder for Florida pompano (Trachinotus carolinus). 

Shantel Curlett, 53, caught the 2-pound, 3.52-ounce pompano Oct. 8 on East Beach of St. Simons Island while participating in the Kids Can Fish Foundation's Running of the Bulls Charity Redfish Tournament. She beat the previous Florida pompano record of 1-pound, 7.68-ounces held in a tie by Cathy Sanders of Palm Coast, Fla., from 2022, and Laura Cheek of Houston, Texas, from 1982. 

Curlett's new record comes one year and one day after previous record-holder Sanders also caught her record-tying pompano at last year's Kids Can Fish redfish tournament.

Curlett was fishing with a 10-foot Over The Bar rod and Daiwa BG4500 reel spooled with Diamond Illusion 16-pound, hi-visibility orange line. Her terminal rig was hand-tied double-drop rigs with 1/0 (pronounced "one-ought") Owner Mutu Light circle hooks weighted with a 4 ounce sinker. She was using salted ghost shrimp as bait. 
Her catch was weighed the same day by a DNR employee at the DNR Coastal Regional Headquarters in Brunswick on a scale certified by the Georgia Department of Agriculture. 

DNR's Coastal Resources Division (CRD), which oversees the Georgia Saltwater Game Fish Records Program, congratulated Curlett on her achievement and provided her with a state record certificate signed by Gov. Brian Kemp, DNR Commissioner Walter Rabon, and CRD Director Doug Haymans. Curlett's name will be eligible to appear in the 2024 Georgia Sport Fishing Regulations Guide and has been added to the state saltwater records list online at CoastalGaDNR.org/SaltwaterRecords.

DNR reminds all anglers to follow best practices for ethical and responsible fishing, including proper handling and release of fish that are not intended for consumption.
The new state record for Florida pompano is a testament to the fishing in Georgia and the skills of the state's anglers. DNR encourages all anglers to continue practicing safe and responsible fishing and to report any potential record-setting catches to the DNR for verification.

Anglers in Georgia are required to have a valid recreational fishing license, free Saltwater Information Program permit, and to follow size and possession limits for various species. State saltwater record rules and regulations can be found at CoastalGaDNR.org/SaltwaterRecords.

For more information about fishing regulations in Georgia, please visit CoastalGaDNR.org.
 
---
Click here to view the online record and download the application package (including additional photos.)
---
Media Contact
Tyler Jones
Public Information Officer
Coastal Resources Division
Georgia Department of Natural Resources
tyler.jones@dnr.ga.gov
912-262-3140