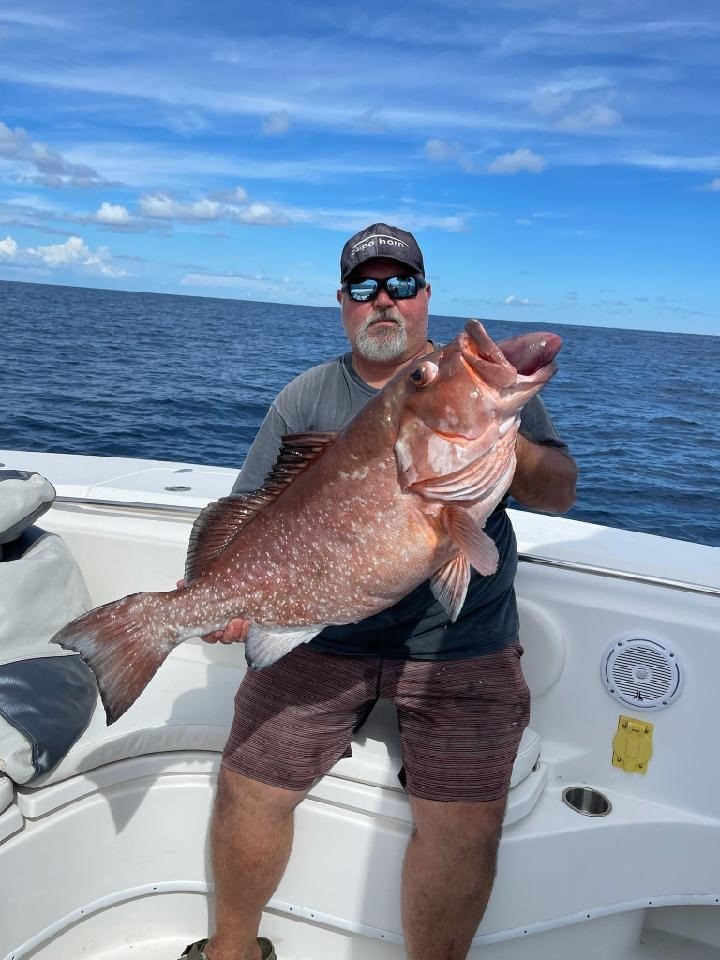 Brunswick, Ga.
A 49-year-old Kingsland man landed a record-breaking red grouper (Epinephelus morio) off the Georgia coast Oct. 4, 2021, and has been certified as the new state record holder for that species.
Bruce C. Bartlett Jr. of Henrietta Drive caught the 26-pound, 6.4-ounce red grouper measuring 34.5 inches east of Navy Tower R4 aboard his boat Fishslaya Duece. The fish breaks the previous record of 19 pounds, 7 ounces set by John Wren in 2012.
Doug Haymans, director of DNR's Coastal Resources Division, which oversees the state's Saltwater Gamefish Record Program, said Bartlett's catch is a credit to the years of experience he has as an angler.
"This achievement recognizes not only the size of the catch, but Mr. Bartlett's skill as an angler and the sportsmanship displayed in landing a record-setting gamefish," Haymans said.
Bartlett landed the red grouper using a 5-foot, 8-inch Ugly Stik Tiger rod with Shimano Torium reel with 65-pound Power Pro line using a live cigar minnow as bait. His terminal rig was a fish finder sinker slide with an 8-ounce bank sinker to a 100-pound barrel swivel, following by a 60-pound fluorocarbon leader and 6/0 Eagle Claw circle hook.
The catch was weighed at M & A Seafood Market on North Lee Street in Kingsland on scales certified by the Georgia Department of Agriculture. The Saltwater Gamefish Records Committee, comprised of DNR marine biologists and staff, approved the new record Friday, Oct. 15, 2021.
Bartlett will receive a certificate signed by Gov. Brian Kemp acknowledging his record catch, and the record will be added to the list published at CoastalGaDNR.org/SaltwaterRecords. It will also be included in the 2022 Georgia Sport Fishing Regulations guidebook. 
For the current list of men's and women's saltwater fishing records, as well as information on how to submit a catch to the Georgia Saltwater Gamefish Record, please visit CoastalGaDNR.org/SaltwaterRecords.