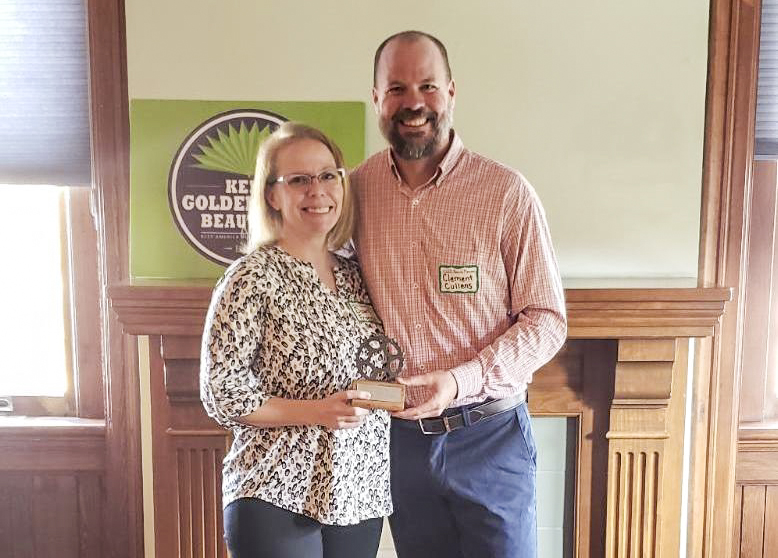 Brunswick, Ga.
A Brunswick-based litter prevention nonprofit recently recognized a Coastal Resources Division (CRD) marine biologist for her volunteer service to the community. 
Dawn Franco was awarded the Bootsie Mason Award during a presentation Thursday by Keep Golden Isles Beautiful (KGIB), a local affiliate of Keep America Beautiful, and a leader in keeping the Golden Isles of Georgia clean, green, and beautiful for more than 40 years. 
"Since 2017, Dawn has served as the CRD Adopt-A-Program captain, leading litter cleanups along U.S. Highway 17, encouraging co-worker participation, and motivating others to join in making a difference along this frequently littered marsh-bordering stretch of roadway north of the Sidney Lanier Bridge near CRD headquarters in Brunswick," said Lea King-Badyna, executive director of KGIB. "While CRD's participation began long before Dawn became captain, since she began spearheading the effort, they have conducted 16 cleanups netting 4,590 pounds of litter removed roadway and salt marsh."
Franco, a CRD employee of nearly 16 years, said she was honored to receive the award. 
"I participate and do all the things that they thanked me for because I believe it's important for all of us to do our part to make our community better," Franco said. "One clear overlap between the missions of KGIB and CRD is keeping roadways clean promotes a healthy natural environment. If we can especially keep plastics from entering the waterways, we can limit the amount of microplastics ingested by organisms in our salt marshes and overall pollution of our natural resources."
Since 2017, Franco has served on the KGIB volunteer Board of Directors, helping position KGIB as a leading educational nonprofit and guide the organization to best serve the residents and visitors of the Golden Isles, King-Badyna said. Serving as KGIB Secretary/Treasurer since 2020, Dawn carefully studies the organization's monthly financials, makes recommendations, suggestions and updates, and assists with KGIB's budget. 
"Dawn, we want you to know that we are grateful for you beyond measure and that your mighty efforts in KGIB world do not go unnoticed," King-Badyna said during the award presentation. "In so many big and little ways, you truly believe and live the Keep Golden Isles Beautiful mission and we are a better, stronger and more impactful organization because of you."