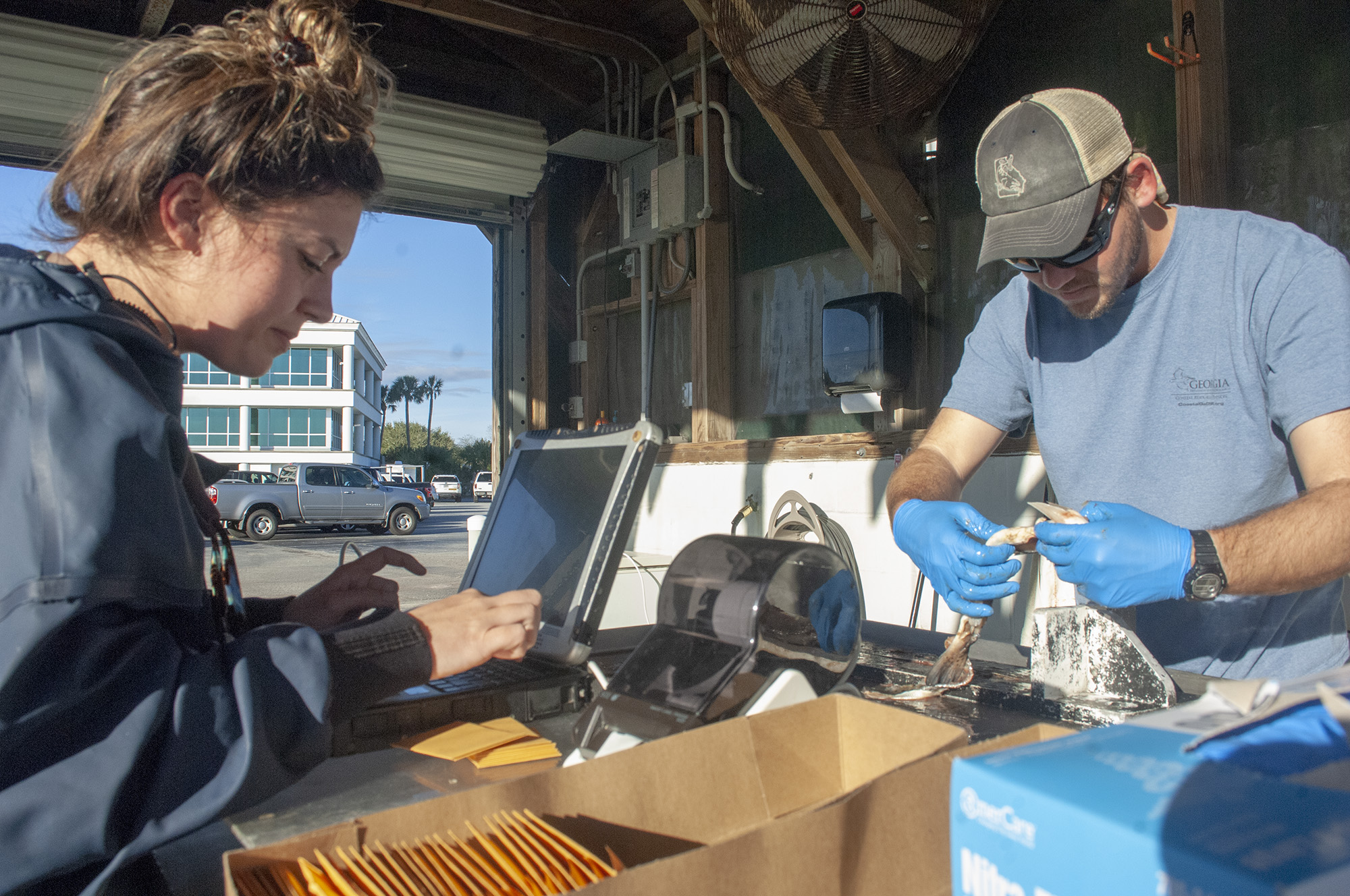 Donna McDowell leaned over a microscope in a dimly lit laboratory recently as she peered into a twin-lens eyepiece. 
    She prefers to work with the bright, overhead fluorescent lights turned off so she can see better through the microscope, she said. 
    "It's just a little easier," said the veteran marine biologist with the Coastal Resources Division (CRD) of the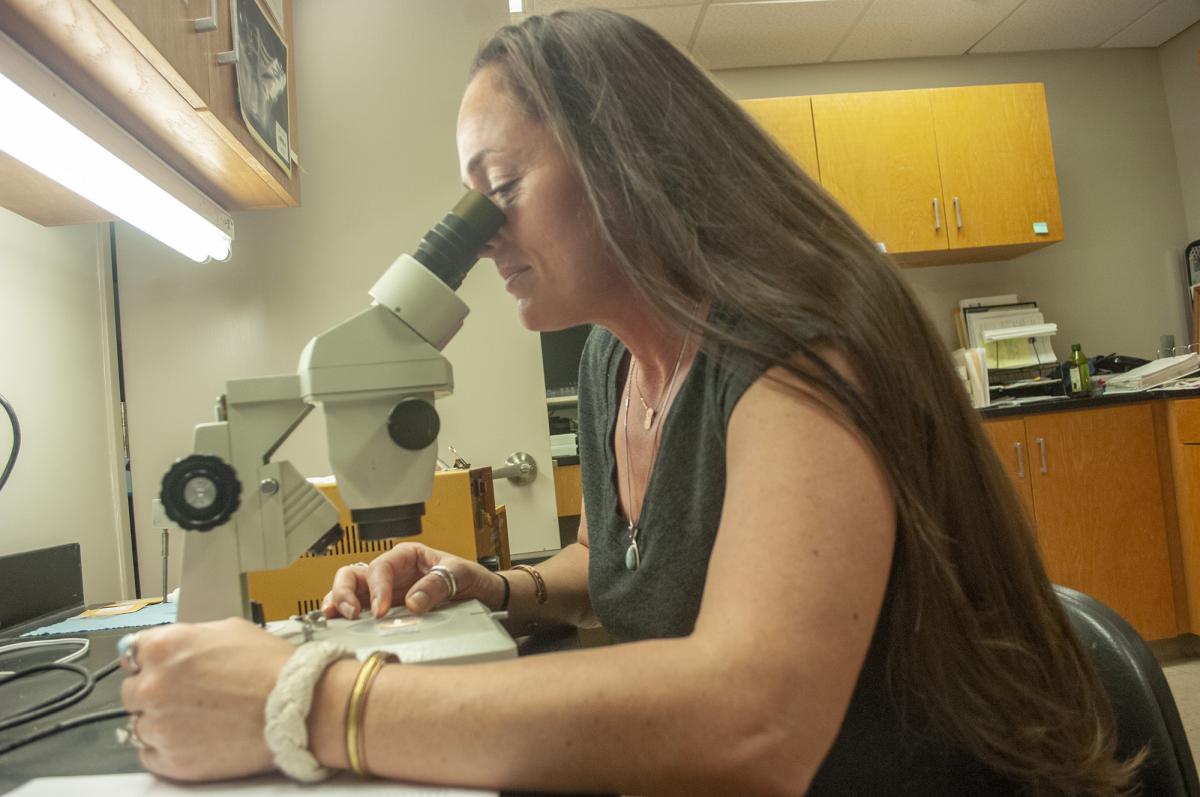 Georgia Department of Natural Resources (DNR) in Brunswick.
    McDowell has plenty to look at. Since December 2003, she has overseen the Age and Growth Laboratory at CRD. In her career, she's analyzed tens of thousands of fish ear-bones, called "otoliths." By examining the samples under a microscope, McDowell can count the rings in the bones and determine the fish's age, much like counting tree rings. 
    "We use a low-speed saw with two diamond-edged blades spaced slightly apart," McDowell explained. "Those blades cut a mid-section slice from the bone, and that section is mounted to a microscope slide. Then, we can pop it under the microscope and count the rings. Basically, you're looking for a very sharp V-shape, and you count up from the center. The center is zero years, and from there, you count the dark rings upward."
    All of that data helps tell McDowell and other researchers how old fish were when they were caught. That's important, she said, because it can help conserve Georgia's saltwater fisheries for current and future generations. 
    "If you look at the data over time, you'll be able to tell how fishing affects the sizes of certain ages of fish," she said. "If the population is stressed, they mature at a smaller size -- because they have to. When a smaller female reaches maturity early, she'll have fewer eggs and they'll be smaller. A more robust female will have a larger cavity, larger ovaries and more, bigger eggs."
    The data collected by McDowell is used by the Georgia Board of Natural Resources to set certain fishing regulations. 
    Most of the fish analyzed by McDowell are spotted seatrout and red drum, but the lab has also gathered data about Southern kingfish (also called whiting), black drum,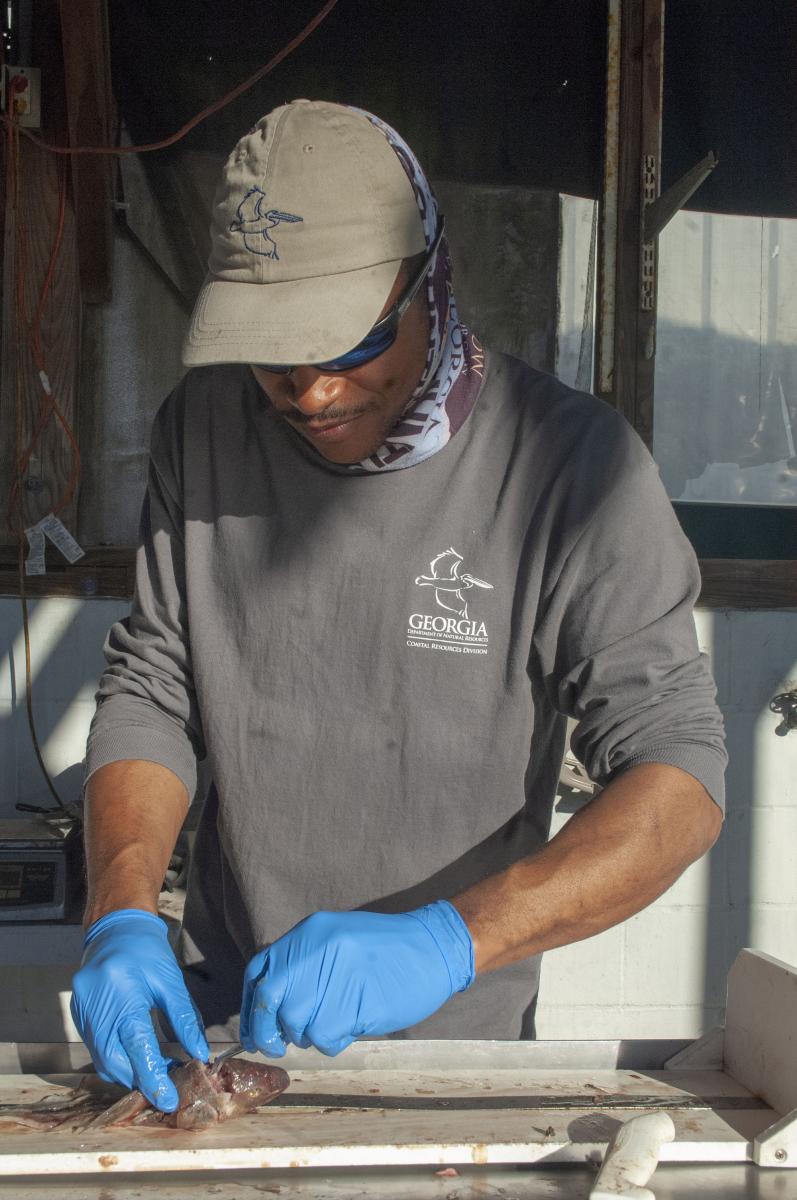 Southern flounder, Atlantic croaker, sheepshead, tripletail and others. 
    It all depends on what Georgia's anglers are catching. That's because the sample bones that come to McDowell's lab are courtesy of more than 2,000 Georgia anglers who have donated their fileted fish carcasses to CRD since 1997. 
    Ryan Harrell, another CRD marine biologist, helps collect those carcasses and get them ready for the lab. He and his team of marine technicians visit 15 sites including marinas and public docks along Georgia's coast. There, they collect bags of fish carcasses left in freezers by anglers. The freezers were purchased with funds donated by the Georgia Power Foundation and the Georgia Natural Resources Foundation, Harrell explained. 
    "This is a great partnership between CRD, anglers, marinas, private fishing clubs and others," he said. "It helps us re-allocate our time for other projects, rather than having to go out and catch all these fish ourselves -- and the data is really valuable."
    Harrell and his team have an industrial-size freezer at DNR's regional headquarters in Brunswick stocked to the brim with bags donated by anglers. On certain days, the marine-tech team slices open the bags, measures the fish and removes the otoliths for McDowell to examine in her lab. 
    Justin Bythwood is one of CRD's marine techs who works hands-on with the process.
    "I think it's a great program," Bythwood said recently as he took a long filet knife and cracked open the head of a spotted seatrout to remove its otoliths. "We're getting data that we wouldn't otherwise have unless we went out and got it ourselves."
    While it may be slightly smelly work handling scores of thawing fish carcasses, Bythwood doesn't seem to mind. He's an avid angler who knows his way around the process. 
    "The best way to describe it is we take the carcass, identify its sex, measure the centerline length in millimeters and then remove the two otoliths," he said of the process.
    Those otoliths are placed in small manila coin envelopes, labeled and sent to the Age and Growth Lab. Sometimes, Harrell said, the carcasses left by anglers have to be thrown away. That's usually because the card anglers are supposed to place in the sample bag is incomplete and missing important data like the date of the catch.
    "It's really important people fill out the card completely and correctly," Harrell said. "It's not very long, and we keep track of the anglers who donate. We like to thank them by giving away things like T-shirts, hats and other cool stuff."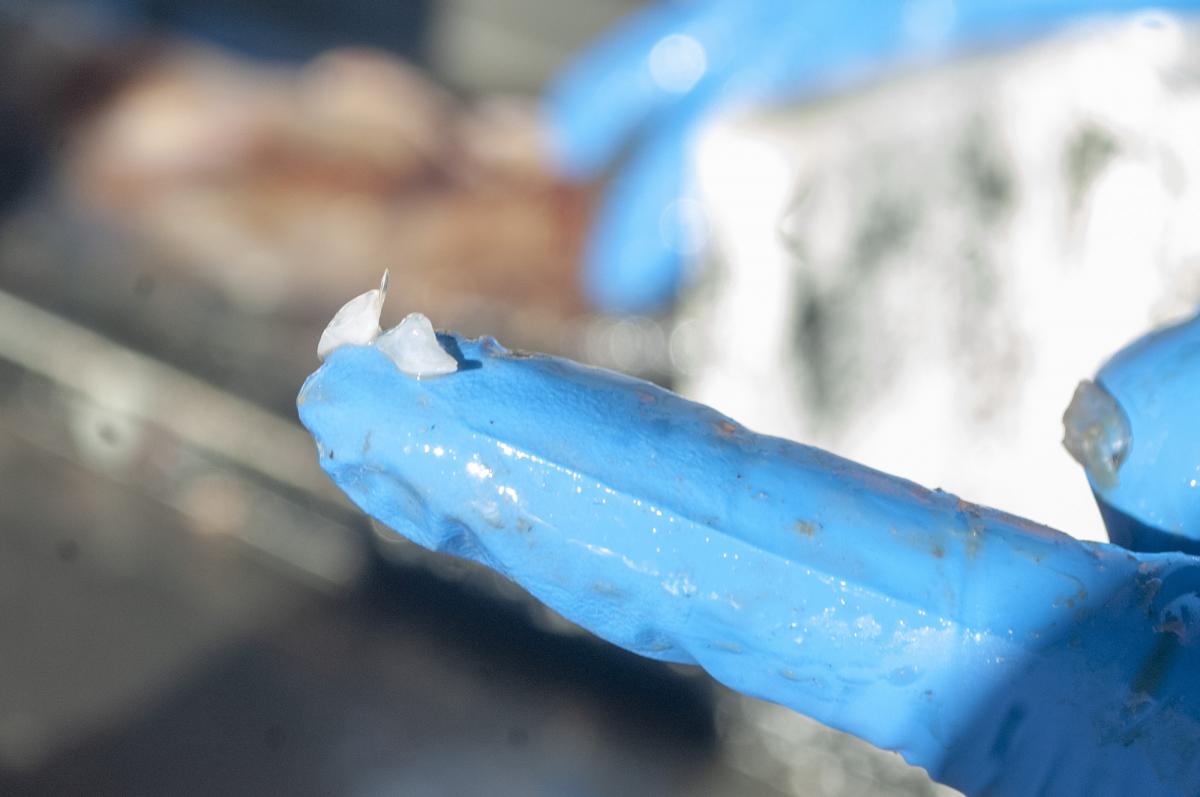 Back at her lab, McDowell said she's excited about the program's future and the ongoing partnership between CRD, anglers and foundation partners. 
    "This is a unique opportunity for Georgia's anglers to help CRD conserve their favorite fish for their children and grandchildren," she said. "A lot of what we do here is kind of behind-the-scenes, but we're grateful to our partners. Without them, we couldn't do this."