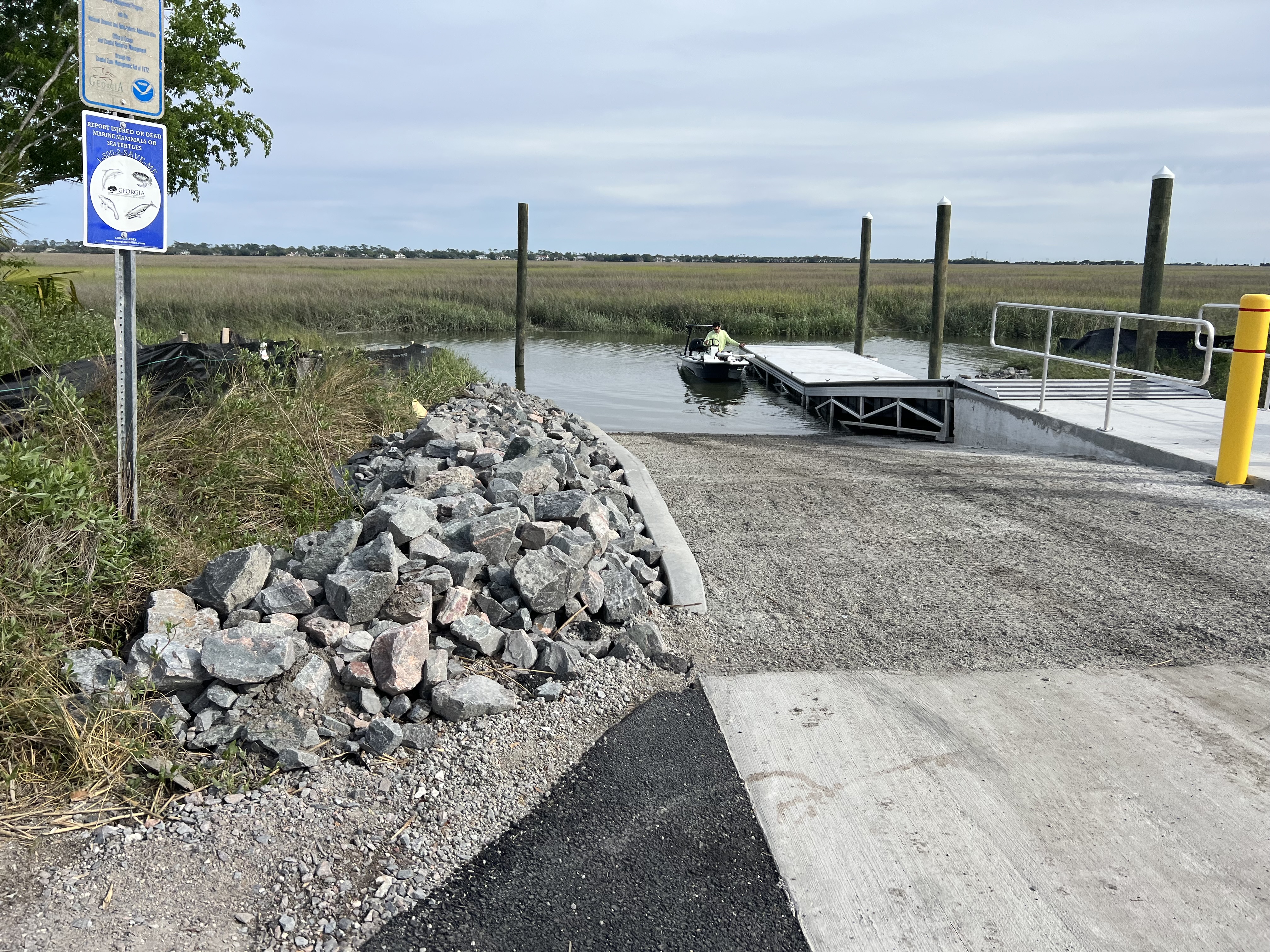 Brunswick, Ga.
The Georgia Department of Natural Resources is pleased to announce the re-opening of the Glynn County-owned Village Creek public boat ramp after undergoing extensive construction and renovation.
The boat ramp, on South Harrington Road on St. Simons Island, has been closed for the past three months for DNR-funded repairs and improvements to enhance the overall user experience. The project involved the replacement of the 14-foot wide, 8-inch thick ramp surface and the installation of a new 9-foot wide courtesy dock.
"We're excited to welcome back boaters to the newly renovated Village Creek boat ramp," said Paul Medders, public access leader for DNR's Coastal Resources Division. "The construction and upgrades were necessary to ensure the safety of all users, and we're thrilled with the outcome."
The Village Creek ramp is a popular destination for recreational boaters, anglers, and kayakers, and the re-opening is sure to be a welcome announcement for those who have been waiting to return to the water.
"We know how important the Village Creek boat ramp is to the St. Simons Island community, and we appreciate everyone's patience during the construction process," added Medders. "We're looking forward to seeing everyone out on the water this season."
The boat ramp accesses a tributary of Village Creek that is prone to extremely shallow waters during low tides. The ramp is suitable for launching shallow-draft vessels, such as skiffs, john boats, and kayaks. Boaters can access a free tide chart at CoastalGaDNR.org/RecreationalFishing for planning purposes. A comprehensive list of DNR-affiliated coastal boat ramps can be found at CoastalGaDNR.org/AllBoatRamps.
DNR reminds all users to exercise caution and follow all posted regulations while using the ramp. Boaters are also reminded to ensure that their vessels are properly equipped and registered before launching.
The public will also be invited to a ribbon-cutting ceremony at the boat ramp yet to be scheduled.
For more information on the Village Creek boat ramp, the future ribbon cutting, or other recreational opportunities in the area, please visit DNR's Coastal Resources Division website at CoastalGaDNR.org or call 912-264-7218.