Georgia Department of Natural Resources has announced participation in the FishSmart Red Snapper and Red Drum Conservation Project.  This innovative project is an evolution in sportfishing and enhances anglers' long-established role as conservationists.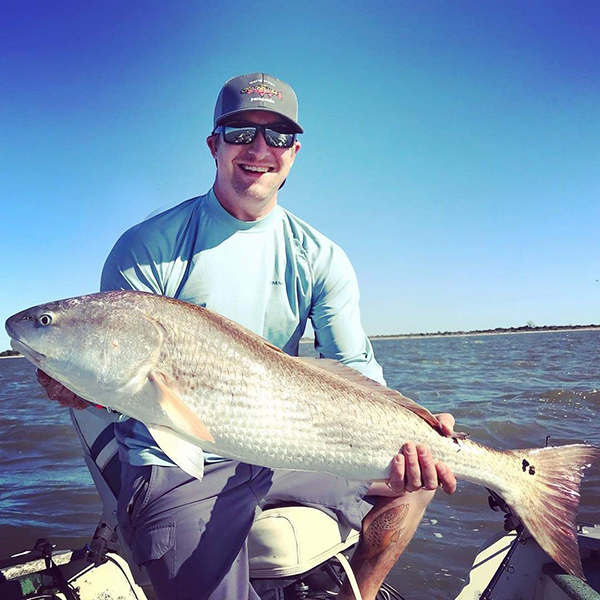 Richard Barrett of Cumming, Georgia landed this red drum using a weighted short leader rig.
Nearly 350 million fish are caught each year by recreational anglers in the South Atlantic, and of those, approximately 60 percent are released. More than two million fish could be saved each year if anglers increased the survival of even 1% of these released fish.   Studies have shown that using short leader rigs with circle hooks can reduce deep hooking and improve chances of survival for released red drum.
As the fall red drum season picks up, coastal anglers are encouraged to actively participate in the red drum conservation aspect of the Project. To raise awareness of this new initiative, interested anglers can receive FREE short leader rigs by contacting Kathy Knowlton at 912-262-3122 or kathy.knowlton@dnr.ga.gov.  In addition to receiving two types of short leader rig designs, anglers will also receive "Best Practices" information for landing, handling and releasing fish. Participating anglers will be asked to complete a short web-based survey. 
To find out more about GADNR's participation in this project, visit coastalgadnr.org/FishSmart.
The South Atlantic project is coordinated through the FishAmerica Foundation and in collaboration with Yamaha Marine, American Sportfishing Association, Georgia Department of Natural Resources Coastal Resources Division, Florida Fish and Wildlife Conservation Commission, Gray's Reef Marine Sanctuary Foundation, NOAA Fisheries, North Carolina Marine Fisheries, Recreational Boating & Fishing Foundation, South Atlantic Fishery Management Council, and South Carolina Department of Natural Resources.
FishSmart was created by anglers, sportfishing companies, and fisheries managers to make fishing better for tomorrow through actions taken today. To learn more about the FishSmart project, visit FishSmart.org.