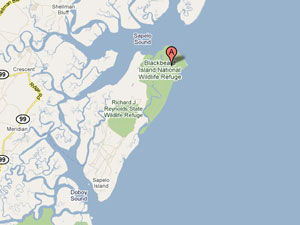 Blackbeard Island's total acreage including marsh is 5,618 acres. It has 3,900 acres of uplands, 9 miles of beach, and is two and one-half miles wide at its widest point.
In the early 1700's Edward Teach, the famous English pirate popularly known as "Blackbeard," was thought to have buried treasure on Blackbeard Island. Sapelo's Allen Green, who at one time worked on Blackbeard, once discovered a large chain around a live oak tree. The chain extended into the ground near a tidal creek. Could this chain have been attached to Blackbeard's treasure? We will never know.
In 1800, Blackbeard Island was purchased by the U. S. Navy Department at public auction as a source of live oak lumber for shipbuilding. From August 14, 1880 to 1910, the island served as a quarantine station where ships left passengers that were thought to have yellow fever. A hospital was built on the southern end of the island because of the lack of standing water. It consisted of a large wooden storehouse and several large tents. Tents were used because they could be burned easily after infestation with the disease.
In 1924, Blackbeard Island became a preserve and breeding ground for native birds when it was placed under the jurisdiction of the Bureau of Biological Survey which later became the U.S. Fish and Wildlife Service. In 1940, it was proclaimed as the Blackbeard Island National Wildlife Refuge.
Blackbeard is open to the public for daytime recreational activities and bow hunting is allowed during bow season with the proper permits. Freshwater fishing is allowed from March 15th to October 25th with a Georgia fishing license. Access to the island is by boat only and the government dock on Blackbeard Creek is accessible during all tides.