Georgia's territorial waters will re-open to commercial and recreational shellfish harvest effective 6:00 A.M., Saturday, September 30, 2017. GA DNR Commissioner Mark Williams closed shellfish harvest in state waters September 9th in anticipation of the expected impact from Hurricane Irma and in the interest of protecting public health.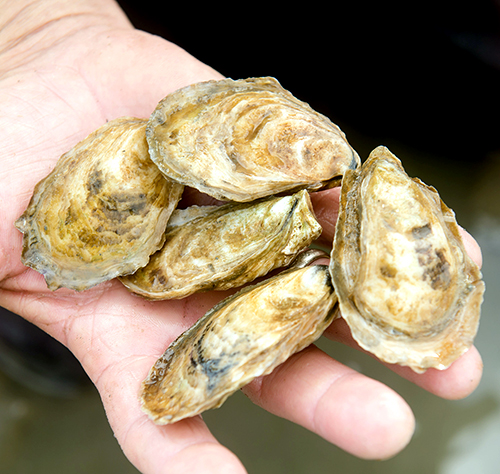 "The predicted impacts from Hurricane Irma included heavy rains and larger than normal tidal surges that could have resulted in elevated bacterial levels from run off into the growing areas", states Dominic Guadagnoli, shellfish fishery manager for the Coastal Resources Division of GA DNR.  "Post-Irma testing of territorial waters has been completed and water quality and shellfish meat samples are below bacterial threshold levels and safe for harvest."  This re-opening is made in accordance with current sound principles of wildlife research and management and fulfills requirements of the Interstate Shellfish Sanitation Conference and Federal Drug Administration.
The fall and winter season when the temperatures begin to cool is when most consumers purchase shellfish. Here are a few things to remember or look for when buying oysters, clams, or mussels from seafood dealers and markets: 
Only buy fresh in-shell oysters, clams, or mussels from a licensed retail or wholesale seafood dealer that has product properly tagged with a harvest location, dealer name and date. Likewise, when buying in-shell processed or shucked oysters, clams, or mussels ensure that the product has been processed by a certified dealer with the name, address, and dealer certificate number on the tag or label.
Also, only buy shellfish that have been refrigerated or iced at 45⁰ F or less.
Shellfish should never be consumed raw by individuals that have a compromised immune system such as diabetes, liver disease, cancer, and other disorders.
Risk of illness from consuming shellfish can be significantly reduced if the product is thoroughly cooked.   
If you are uncertain whether molluscan shellfish have been harvested, handled, processed, or distributed by approved licensed seafood operators contact the Georgia Department of Agriculture, Seafood Safety Office at 912-963-2500 or the Food Safety Division at 404-656-3621 or visit the web-link www.safeoysters.org for additional information
For more information on oyster harvesting in Georgia contact GA DNR/Coastal Resources Division at 912.264.7218.