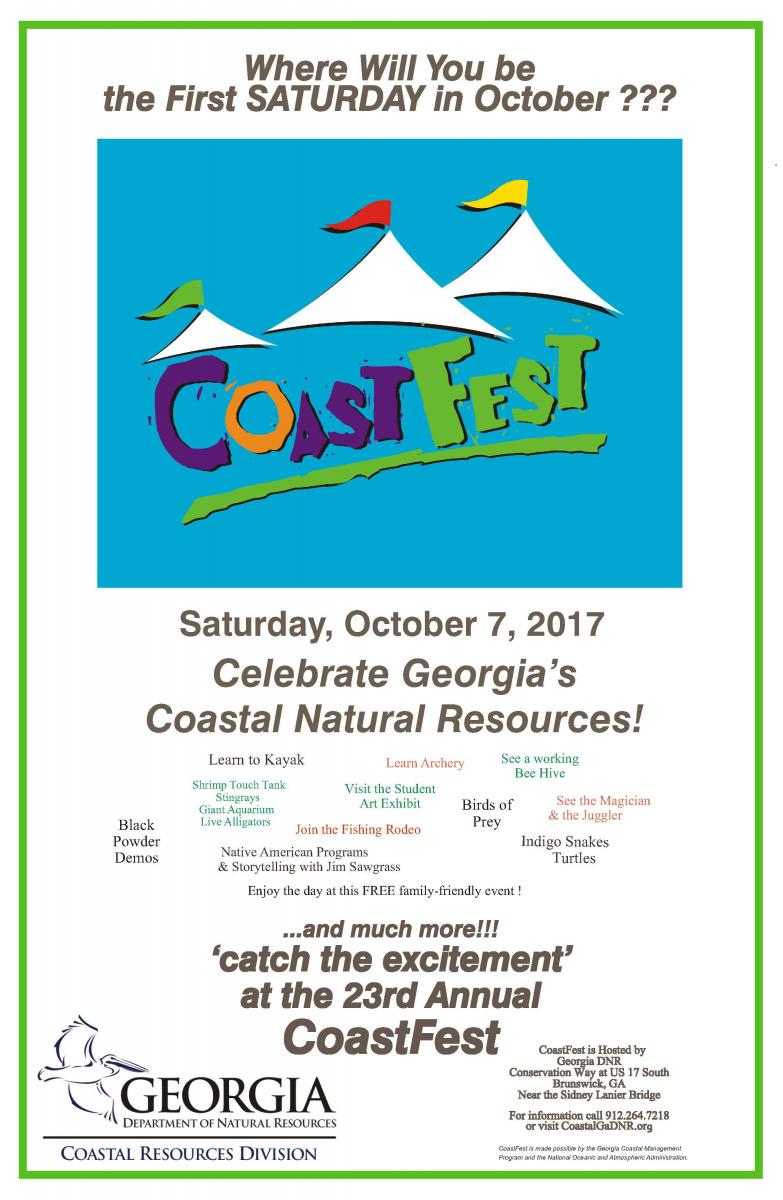 CoastFest 2017 - Georgia's largest celebration of our state's coastal natural resources is ready to take center stage!  The 23rd edition of this annual event will take place at the Georgia Department of Natural Resources/Coastal Regional headquarters on Saturday, October 7th  from 10 am 'til 4pm.  Over 70 interactive environmental, educational and resource organizations from around the southeast will offer visitors a chance to learn about Georgia's coastal resources and have some fun at the same time.
CoastFest 2017 will offer new experiences around every corner for visitors this year! Take a fresh look at art...walk the Nature Trail to see the new coastal photography exhibit by the Golden Islands Photography Guild.  Throughout the day under the show tents returning favorites Arthur Atsma and his Science Circus will demonstrate marine science and Newtonian physics with fast-paced circus stunts and magic tricks; Jim Sawgrass and his Creek Indian family will entertain with Native American songs and ritual dances.  Master juggler Rhys Thomas will perform amazing juggling feats with lots of audience participation.  And don't miss the 'Family Fun Follies' when the amazing skills of both juggler and magician combine for a high energy show sure to keep you on the edge of your seat.
At CoastFest 2017 you can put your hands into the touch tanks ...enter the Casting Contest…learn boating safety ...learn to kayak ...take part in living history demonstrations ...watch cannon firings ...climb a rock wall ... see the CoastFest student art contest entries ...hold live snakes or an alligator ...learn about oyster habitat restoration ...try your hand at archery ...tour the US Coast Guard boats ...walk up to a bull moose, a bear, an elk, a wolf….and much, much more!!!
Coastfest is located at the Department of Natural Resources/Coastal Regional Headquarters in Brunswick at One Conservation Way on Highway 17 South (just north of the Sidney Lanier Bridge) and is made possible by the Georgia Coastal Management Program and the National Oceanic and Atmospheric Administration. For more CoastFest information call DNR/CRD at (912) 264-7218 or check out the CoastFest Facebook page.

Fun activities! Learn about our coastal environment!