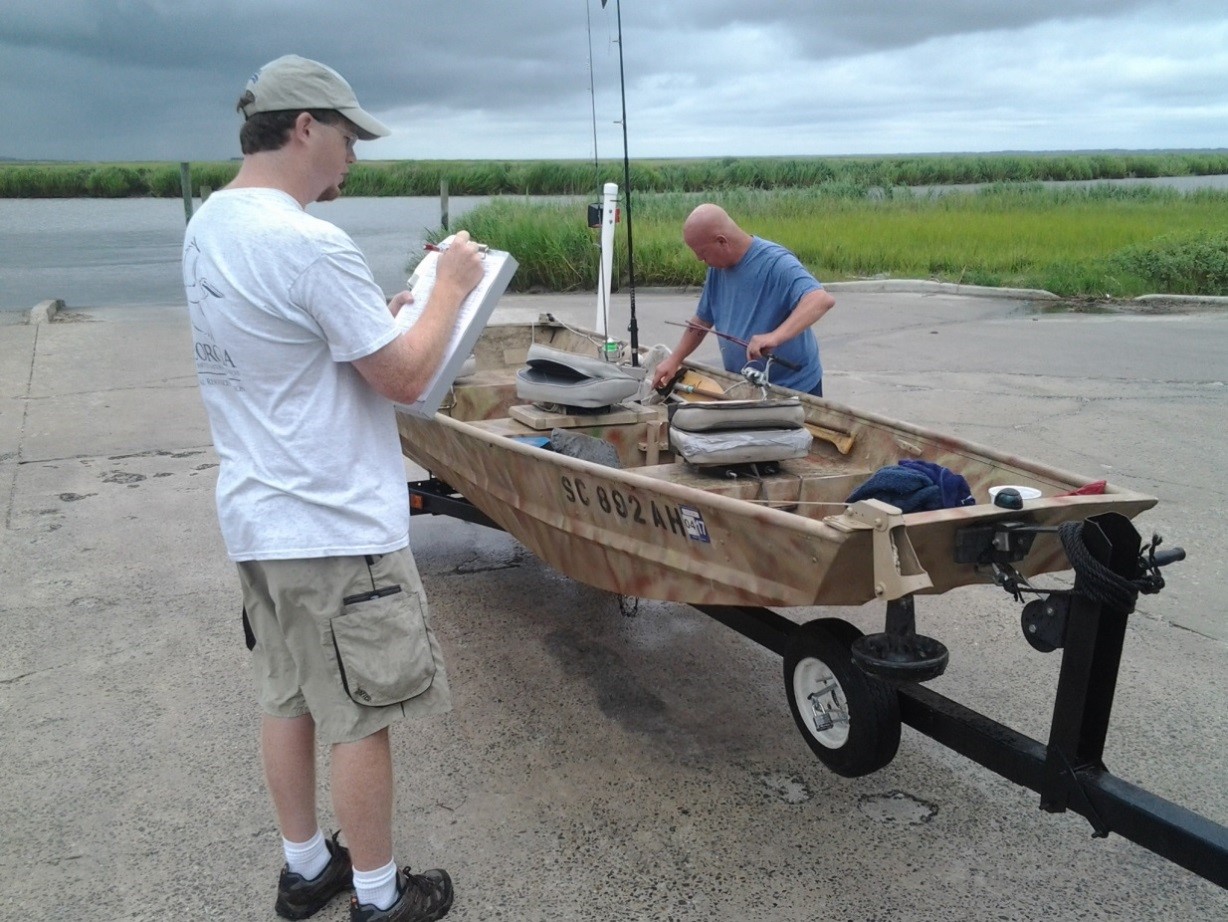 Brunswick, Ga.
Staff members from the Coastal Resources Division (CRD) of the Georgia Department of Natural Resources are in the field again this year gathering important data about fishing activity.
The Access Point Angler Intercept Survey, or APAIS, is a survey conducted annually by CRD in conjunction with the National Marine Fisheries Service. This survey helps create estimates for recreational saltwater finfish populations, as well as the number of fishing trips on Georgia's coast.
CRD is tasked with managing Georgia's marine fisheries and the survey is a tool for measuring the health of fish populations, explained Dawn Franco, a marine biologist with CRD. The survey helps CRD achieve its mission to provide fishing opportunities on the coast.
"All of the information we gather helps us monitor fishing activity and assess the removals from the fishery," Franco said. "It gives us the data we need to track changes in fish populations over the years. We also collect biological data such as length and weight of harvested fish. Our goal is to collect the best data we possibly can in hopes of providing marine fisheries managers with a reliable source of information when making management recommendations."
Researchers will interview about 2,500 Georgia anglers this year. These interviews will be conducted at coastal boat ramps, marinas, docks, piers and beaches. All anglers who are returning from charter fishing trips, private boat trips and those fishing from the shoreline are eligible to take part in the survey. The APAIS works in tandem with two other surveys — the For-Hire Telephone Survey and the Fishing Effort Survey — to give Coastal Resources Division staff a snapshot of marine fisheries. The For-Hire Telephone Survey specifically targets charter fishing, while the Fishing Effort Survey provides effort estimates for private boat and shore anglers and is conducted via U.S. mail
Participation in all of these surveys is voluntary, but Franco said it is important that anglers take part in each of the surveys if selected.
"We definitely value anglers' privacy," she said. "We use the information we gather to understand the fishery and make sure it's conserved for the future. We're not going to share where your favorite fishing spot is, and we're not law enforcement. We're strictly collecting data, and it's 100 percent confidential."
Higher levels of survey participation help generate less biased and more accurate data, Franco added.
One change to this year's survey is a transition from pencil-and-paper to tablet-based data collection. Surveyors will ask participants about what fish they were hoping to catch, details about what fish they caught, the duration of the fishing trip and other important details.
The survey effort in Georgia is part of a much larger effort to collect data about saltwater fisheries along the Atlantic and Gulf coasts. States from Maine to Georgia and from Florida to Mississippi are conducting the same survey. The information will be used by National Oceanographic and Atmospheric Administration, regional fisheries management councils, interstate fisheries commissions, state agencies and other groups involved in the management of fisheries.
For more information, visit https://coastalgadnr.org/DataCollectionAndSurveys or call 912-262-3140.