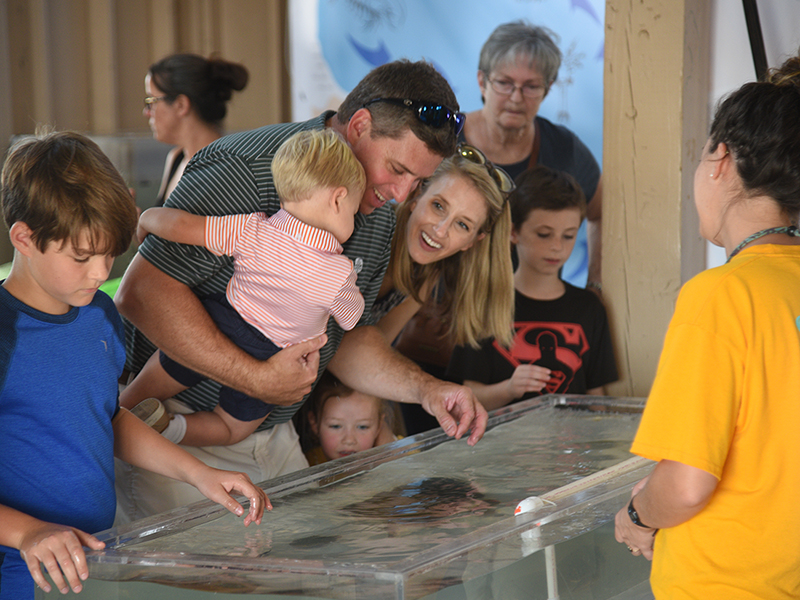 Brunswick, Ga.
The Georgia Department of Natural Resources (DNR) is excited to announce the return of CoastFest, a celebration of coastal conservation and education. This year's event will take place on from 10 a.m. to 4 p.m. Earth Day, Saturday, April 22, at Mary Ross Waterfront Park in historic downtown Brunswick and promises to be a day filled with fun, learning, and appreciation for Georgia's beautiful coast.
CoastFest is a free, family-friendly event that provides attendees with the opportunity to learn about coastal ecosystems, wildlife, and conservation efforts. The festival, hosted by DNR's Coastal Resources Division (CRD) with funding from the National Oceanic and Atmospheric Administration, will feature interactive exhibits, live animal displays, and educational programs. Attendees can look forward to hands-on activities such as a climbing wall, archery, and CRD's "Coastal Experience" pavilion, a full-feature exhibit showcasing the mission of CRD.
"This year's CoastFest is particularly special as we return from our Covid hiatus and celebrate our coast's unique ecosystems and the individuals and organizations working to protect them," said Tyler Jones, CRD's CoastFest coordinator. "We hope that this event will inspire attendees to become stewards of our coast and take action towards conservation efforts."
CoastFest will also feature more than 40 exhibitors from environmentally focused organizations and agencies and cannon and musket demonstrations by DNR's State Parks and Historic Sites Division. The festival also showcases live wildlife from Georgia Southern University's Center for Wildlife Education, Chehaw Park and Zoo, Tidelands 4-H Nature Center, Okefenokee Swamp Park and Adventures, and DNR's Charlie Elliott Wildlife Center.
New this year, "Dumpster Doug" will perform a kid-friendly program, showing how he travels the earth searching for the sources of air, land and water pollution and then shows audiences that small changes make a huge difference when it comes to protecting the earth's natural resources.
A variety of food trucks will be available with offerings for sale. CRD will also be selling T-shirts featuring the artwork of 2021 CoastFest Art Contest winner Shelby Williams, a former student of Glynn Academy in Brunswick. CRD will have Youth sizes small to large for $8 and adult sizes small to 3X large for $14, with major credit/debit cards and cash accepted.
Admission to CoastFest is free. Parking for the public is available at Brunswick Landing Marina, at the intersection of I Street and U.S. Highway 341 across from the Glynn County Veterans Memorial Park.
"We are thrilled to be able to host CoastFest in person this year and look forward to welcoming attendees to an exciting and enjoyable event," said Jones.
With a focus on education, conservation, and community, CoastFest promises to be a celebration of Georgia's unique coast and an opportunity to learn about how CRD and other groups work to protect and conserve the state's coast.
For more information, including program/show times, exhibitors, and activities, visit www.DNRCoastFest.org.