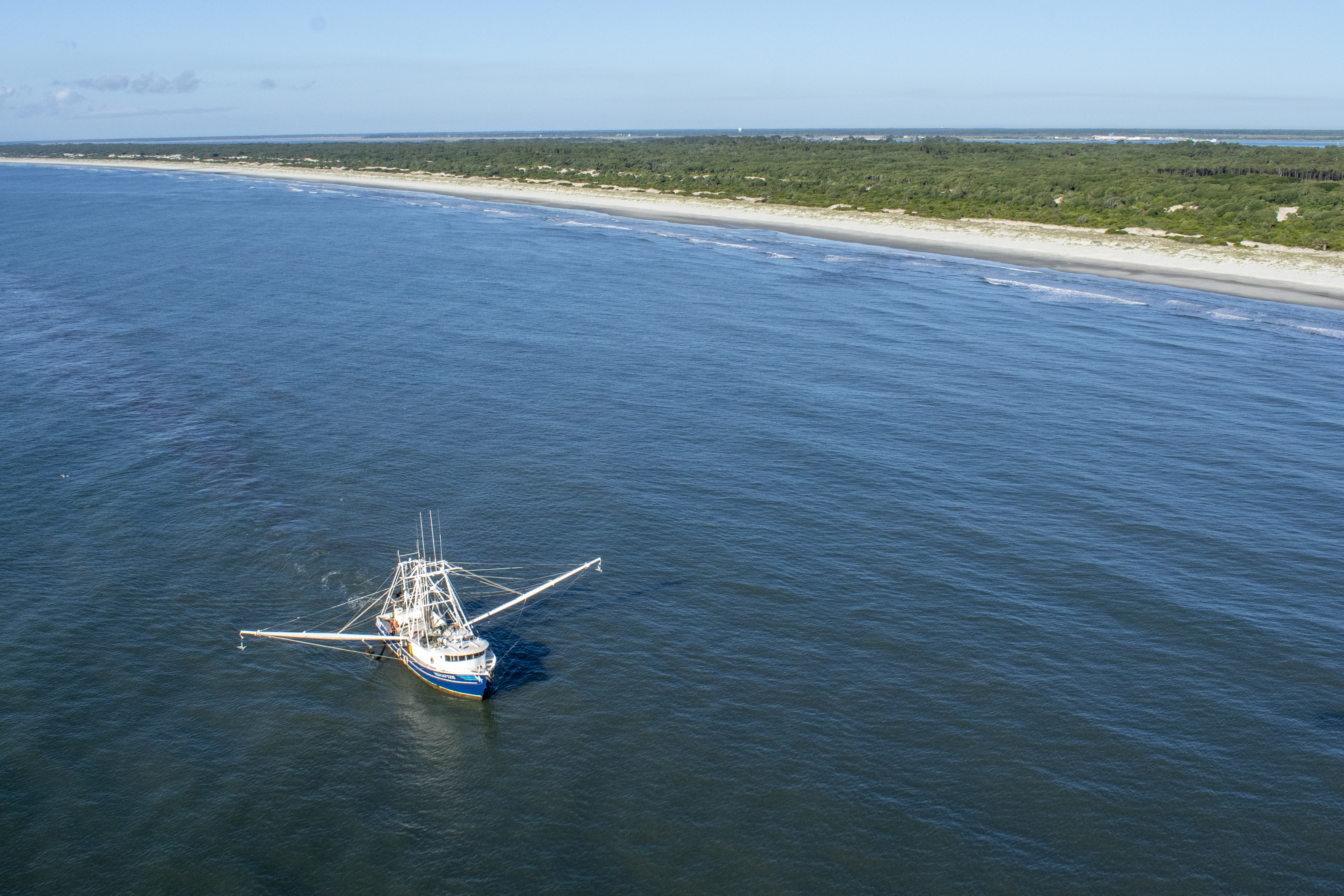 Brunswick, Ga
Georgia's commercial and recreational food shrimp season will close as prescribed by law at 6 p.m. Saturday, Dec. 31, the Georgia Department of Natural Resources (DNR) announced today.
Biologists with DNR's Coastal Resources Division (CRD), which manages the state's marine fisheries, report a standard measure of shrimp abundance known as "catch per unit effort" was significantly lower this month compared to the 20-year average and a factor in the closure date.
Catch Per Unit Effort
Sector
Long-term data from Decembers
(2002-2022)
December 2022 Data
Difference
(percent)

Creeks

4.2

2.2

-48.7

Sounds

4.8

3.2

-33.3

Beaches

0.9

0.7

-18.5

All Sectors

3.3

2.0

-38.7
"Catch per unit effort—or 'CPUE' for short—is measure of abundance in fisheries," said Eddie Leonard, a CRD biologist who oversees the collection of shrimp fishery data in Georgia. "CRD's Ecological Monitoring Trawl Survey collects shrimp data by towing a net from a trawler at 15-minute intervals at preselected sites across the Georgia coast. The CPUE is the pounds of shrimp we collect for each trawl.
"Off beaches in December, for example, we saw an average CPUE of 0.7, which means we caught an average of 0.7 pounds per trawl at all of our off-beach sites."
CPUE is calculated for three types of locations: creeks, sounds, and beaches. The overall CPUE for December for all three sectors was an average of 2 pounds per trawl, a decrease of nearly 39 percent from the 20-year average. [See "Catch Per Unit Effort"]
A separate metric biologists use to make recommendations about shrimp fishery management is known as headcount. This measures the number of shrimp it takes to make one full pound. The average headcount for all three sectors this December was 40.3, which is generally on-par with the 20-year average of 42.9 for Decembers. [See "Headcount" chart] Georgia law allows the Commissioner of Natural Resources to extend shrimping season beyond Dec. 31 if the headcount is 50 or fewer, as was the case in 2020 and 2019.
At the recommendation of CRD biologists, the Commissioner this year is allowing shrimp season to close as scheduled, particularly due to unseasonably cold weather in recent days.
Headcount (Shrimp to make 1 pound)
Sector
Long-term data from Decembers
(2002-2022)
December 2022 Data
Difference
(percent)

Creeks

50.7
49.9

-1.6

Sounds

38.4
37.8

-1.6

Beaches

30.2
22.9

-24.2

All Sectors

42.9
40.3

-6.1

 
 
 
*Decrease/negative number means larger shrimp size.
"The low abundance of shrimp is concerning with regards to rapidly falling air temperatures," said Leonard. "Shrimp, especially in shallow creeks and rivers, are very vulnerable to low water temperatures. Local air temperatures have been well below freezing in recent days, and the effects of this cold snap on Georgia's shrimp population remains to be seen."
Shrimp season generally remains closed until mid to early June. Georgia law allows for the opening of shrimp season as early as May 15, but the Commissioner of Natural Resources may postpone the date depending on shrimp abundance data and other factors. The latest date shrimp season has opened in Georgia in the last 20 years has been June 22.
Georgia had 214 licensed shrimping vessels in 2022 that collectively reported 1.75 million pounds of shrimp between January and November, a 23.2 percent decrease from the five-year average. This season's reported dockside value as of today was $10.5 million, an 11.3 percent increase over the five-year average. Dockside value is what shrimpers are paid by wholesalers and other buyers, and not the retail market price. There may be shrimp landings yet to be reported, which could increase the season's total weight and value.
The state food shrimp closure does not affect bait shrimping or federally managed waters three to 200 nautical miles offshore. The 2022 Georgia food shrimp season opened June 1.
Anyone with questions may contact CRD's public information officer at 912-262-3140 or tyler.jones@dnr.ga.gov.
---
---
Watch this video to learn about the Ecological Trawl Monitoring Survey and how CRD opens and closes shrimp season: