Coastal Incentive Grant Program
The CIG Program is a competitive pass-through subgrant program made possible by a grant to GDNR from the National Oceanic and Atmospheric Administration (NOAA) through Congressional funding pursuant to the Coastal Zone Management Act.  Each year, the GCMP allocates a portion of its federal funding to the Coastal Incentive Grants.  These subgrants may be awarded to qualified county and municipal governments, regional commissions, state-affiliated research or educational institutions, or state agencies (except GDNR), provided the project takes place entirely within the eleven-county service area of the program.  The CIG Program service area includes Brantley, Bryan, Camden, Chatham, Charlton, Effingham, Glynn, Liberty, Long, McIntosh and Wayne counties.  The program cycle that makes this opportunity possible is indicated below, however the CIG Public Notice should be read every year when advertised for program specific details.
The CIG Program Cycle
July: Coastal Advisory Council Annual Meeting (establishes CIG themes and conditions)
August: GDNR Board of Natural Resources approves CIG Public Notice
September: Advertisement of CIG Public Notice
December: CIG Pre-Application Due (competitive)
January: CIG Pre-Application Review Team Meeting
February: CIG Full Application Due (by invitation only)
March: CIG Technical Review Committee Meeting (full application ranking)
April: GDNR grant application due to NOAA (including recommended CIG subgrants)
July/August: NOAA approves GDNR application
August/September: GDNR and CIG applicant sign subgrant award contracts for start date of October 1st
Coastal Incentive Grant Request for Proposals 
The Request for Proposals for the Coastal Incentive Grant for Cycle 26 is now available!
---
Pre-Application Review Process
The Coastal Incentive Grant opportunity will involve a competitive pre-application process followed by an invitation only competitive full application process. Pre-applications will be submitted via the online portal by 4:30 pm on the first Friday of December.  Following the submittal of the pre-application, the Pre-Application Review Team will review and competitively rank the pre-applications based on 1) applicability to the Georgia Coastal Management Program, 2) a demonstrated Coastal Need, 3) clear Project Goals, 4) Budget Soundness, 5) an applicant's Past Performance, and 6) relationship to other federal funding.
After January 13, 2023  the Grants Coordinator will provide all applicants with either an invitation to submit a full application or a pre-application denial letter.  Either letter will also provide Pre-Application Review Team feedback to the applicant with information that may improve their full application or future re-submittal opportunity.
---
 New to the Submission Portal?
Check out our submission tutorial below. Any questions or comments, please contact jan.mackinnon@dnr.ga.gov
---
Full Application Review Process
Upon invitation, the CIG full applications will be due, via online submission portal, by 4:30 pm on February 10th.  Full applications are also competitive and will be reviewed, scored and ranked by the CIG Technical Review Committee.  The 5-member CIG Technical Review Committee has representatives from coastal resource management, the scientific/research community, local government, non-governmental organizations, and citizens-at-large.  All applications are scored based on the applicable Project Evaluation Criteria for Research or Non-Research applications.
Applicants will be notified by the Grants Coordinator in early April 2023 if they are preliminarily chosen for funding.  Funding will be dependent upon NOAA approval in July/August 2023 for project terms of October 1st through September 30th.  Year 2 of any 2-year proposals preliminarily chosen for funding will be entirely dependent upon the favorable federal approval of NOAA's budget.
Low-Cost Construction and Land Acquisition Projects (306A)
Applications to support low-cost construction projects or acquisition of real property that provide access to coastal natural resources are accepted under the Coastal Incentive Grant program.  NOAA is currently revising 306A Guidance and Checklist documentation.  More information will be provided as documents are approved.  Applications for low-cost construction or land acquisition projects require a site visit by DNR staff prior to submission of the full application.  Additional requirements to the standard CIG Application for low-cost construction and land acquisition projects are as follows:
Site plans and site maps must be included with your full application and illustrate in detail as described in the Section 306A Construction and Land Acquisition Guidance document.
---
2022 Cycle 25 Coastal Incentive Grant Awards (10/1/22 - 9/30/23)

Project Title

Sub-Grantee

Improving Resilience in West Brunswick

City of Brunswick

Estimating the Economic Benefit and Impact of Artificial Reefs in Georgia

University of Georgia

Stormwater Best Management Practice Inspection and Maintenance Course

University of Georgia

Coastal Georgia 2009-2019 Tree Canopy Assessment, Change Detection, Outreach and Training

Georgia Tech

Assessing Impacts to Community Infrastructure and Coastal Habitats from Flooding and Shoreline Change: The Science and the Engagement

University of Georgia

Assessing Trends in Sediment Accumulation Rates for Georgia Marsh Sustainability

University of Georgia

Green Infrastructure to Address Sea Level Rise Vulnerabilities in Chatham County

Chatham County
 

Coastal Incentive Grant StoryMaps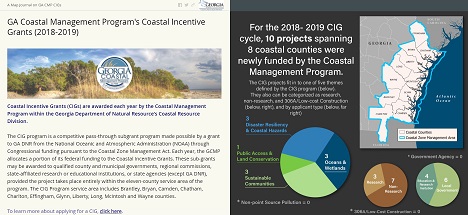 Check out these interactive StoryMaps about funded Coastal Incentive Grants! These will be continuously updated so always check back for more information and deliverables.