Welcome to the overview of the project titled Enhancing Coastal Resilience with Green Infrastructure, which demonstrates the practicality and cost effectiveness of utilizing green infrastructure approaches to mitigate impacts from flooding and wind. This project was directed by the Georgia Coastal Management Program, which is housed in the Coastal Resources Division of the Georgia Department of Natural Resources. Funding for this project was provided by the National Oceanographic and Atmospheric Administration (NOAA).  This project involved numerous partners that modeled potential riverine and coastal flood damages, ran damage assessment models, conducted economic assessments, identified pilot green infrastructure projects, and performed legal and policy analysis.  Please explore the links below to learn more about the project through final reports, guidance documents and training tools.  We are excited to continue to work with our local governments in 2021 and beyond to discuss how they can implement some of the measures discussed below to become more resilient to coastal hazards now and in the future.
Two pilot areas were studied to demonstrate the efficacy of nature-based or green infrastructure practices in Coastal Georgia: Hinesville/Liberty County and the City of Tybee Island. To capture a range of possible current and future conditions, a total of 118 wind and flood scenarios were modeled in these two Georgia communities using HAZUS-MH, which is a powerful flood and wind damage and loss modeling.
A full report of project findings can be downloaded here.
And an Infographic summarizing the results of the modeling work can be seen here.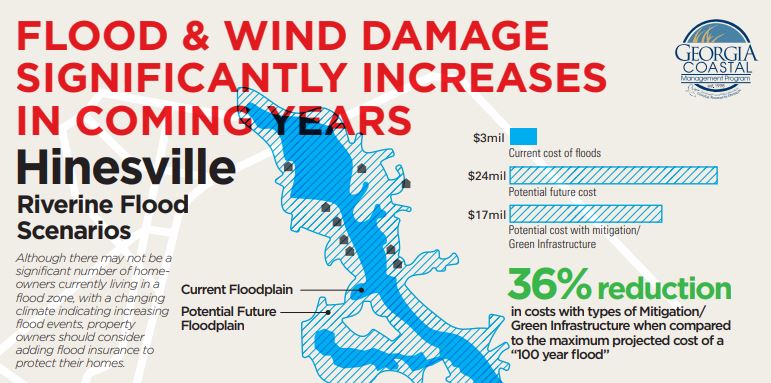 Webinar recording is also available here.  This one hour webinar includes a presentation from researchers at the Polis Center at Indiana University and the Space, Science and Engineering Center at the University of Wisconsin.  They present the results of their full risk assessment in Liberty County/Hinesville area and on Tybee Island in Chatham County.
Future Rainfall Projections for Coastal GA final report can be found here.  GIS data layers are also available upon request.
Enhancing Coastal Resilience with Green Infrastructure Guidance Document is now available for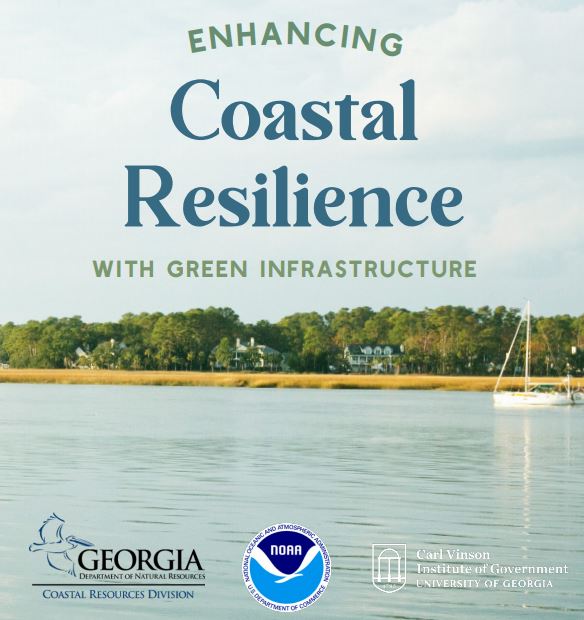 download.  This guide was developed by UGA's Carl Vinson Institute of Government and provides communities in Coastal Georgia and surrounding areas direction to improve community resilience to flooding hazards.  This guide describes a number of practices and policies communities can adopt to make better use of these natural systems and capitalize on the related environmental services, which in turn will make them less susceptible to flood damages. This guide is designed to be a resource for local governments, regional planners, developers, property owners, and anyone else interested in promoting the use of these practices to increase community resilience to the shocks of natural hazards.  Please click here to download.  Contact Kelly.Hill@dnr.ga.gov to request a printed copy.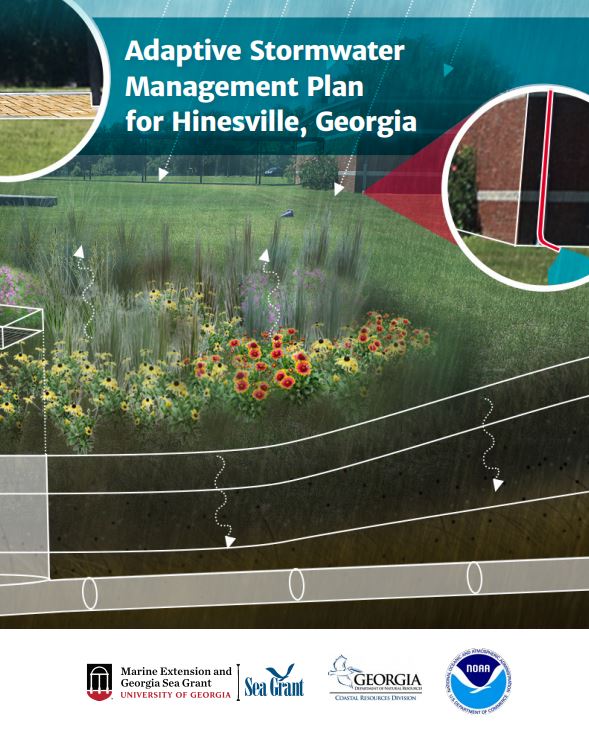 An Adaptive Stormwater Management Plan was developed for the City of Hinesville by partners at UGA's Marine Extension Service and GA Sea Grant.  This Plan was developed to identify priority locations within the City of Hinesville to implement stormwater green infrastructure. The primary objective of this work was to create a tailored plan to support sustainable, innovative, and cost-effective stormwater management by identifying stormwater green infrastructure opportunities positioned for implementation. This plan is intended to be a resource for decisionmakers and to be used as a guide to begin implementing green infrastructure practices and demonstrate to residents and local leaders the benefits and opportunities for better managing stormwater runoff. The Plan can be downloaded here.
An Economic Analysis was completed by the University of Georgia.  The final paper titled Using Meta-Analysis to Assess Benefits of Green Infrastructure Investments: Application to Small Urban Projects in Hinesville, GA can be downloaded here.