29th Annual Golden Isles Family Fishing Event: June 1, 2019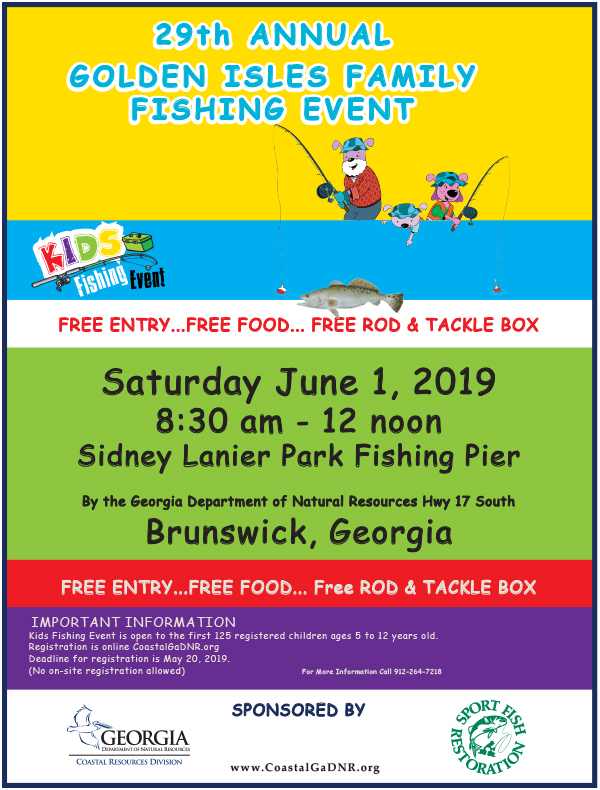 Saturday, June 1, 2019
Sidney Lanier Park Fishing Pier
Brunswick, Ga.
This event is open to kids between the ages of 5 and 12 years old and is limited to the first 125 registered. No on-site registration will be allowed.
Every registered child will receive free rod and reel and tackle box.
No experience necessary! The application deadline is May 20. Registrants will receive an email after May 20 to confirm.
Fill out the registration form below:
---
Beach Week: July 1-3, 2019
Staff of the Georgia Department of Natural Resources (GA/DNR) Coastal Resources Division (CRD) are on hand for three days in early July to educate both visitors and residents alike about the beach environment and the critters that inhabit it. The event showcases activities, information and materials dealing with a wide array of subjects including beach water quality, sand dollar stewardship and sand dunes. Staff are available to answer questions and talk with beach-goers.
"Our goal is to educate both tourists and locals about what they will see at the beach and why good stewardship of this resource is so important," said CRD's Jennifer Kline, an organizer of the event.
Schedule:
---
CoastFest: October 5, 2019
Mark your calendars for Saturday, October 5, 2019! Click here to check out the CoastFest page for all the details!